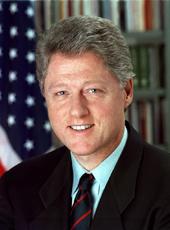 Exchange With Reporters
Bosnia
Q. Mr. President, are there a lot of differences between the U.N. and NATO on Bosnia Sunday night?
The President. No.
Q. What is the problem——
The President. Well, I don't think there is a problem. The decision of the North Atlantic Council still stands. And the rules are clear: that the heavy artillery either has to be taken out of the safe zone or put under the control of the U.N. either in one of these areas where the weapons can be deposited; or if the weapons cannot be moved, they still must be under the control of the U.N.
So I think the issue is just simply working out the mechanism for control of weapons that are either too high in the mountains or snowbound or otherwise unable to be moved to one of these centralized areas. But so far, it seems to me that based on the detailed conversations I had today with the national security staff and the work the Joints Chiefs are doing that they're just working it out. They're just trying to work through what reasonable standards of control are. And I have no reason to believe that there's any difference at this time.
Q. Do you get the sense the Serbs are cooperating and will cooperate Sunday night?
The President. Well, I hope so. It's clear that the NATO allies are still firm. And it's clear to me that the U.N. is working out the real and meaningful definition of control of those weapons.
Health Care Reform
Q. [Inaudible]—can your plan pass without senior citizens group support?
The President. Well, I think the senior citizens groups are going to have to fight for long-term health care and for prescription drugs if they want it in there. They're going to have to fight. That's the message I gave them in New Jersey today. I think they will fight.
NOTE: The exchange began at 6:04 p.m. on the South Lawn at the White House, upon the President's return from Edison, NJ.
William J. Clinton, Exchange With Reporters Online by Gerhard Peters and John T. Woolley, The American Presidency Project https://www.presidency.ucsb.edu/node/218474