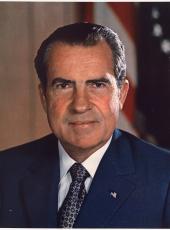 Exchange of Telegrams Between Vice President Nixon and Governor Christopher Del Sesto of Rhode Island
Vice President RICHARD M. NIXON,

Waldorf Astoria Hotel,

New York, N.Y.:
All Americans applaud your recent statement outlining a program to liberalize our immigration laws. Especially encouraging are your proposals to double the number of persons admitted each year to the United States, and to make available unused portions of some countries' quotas for the benefit of nationals desiring to come to the United States from other countries having oversubscribed quotas. Because, however, I am particularly interested in the pressing human need to reunite family groups - a need which you acknowledged in your recent statement - I wish you would explain in detail your plans for achieving this vitally important goal.
CHRISTOPHER DEL SESTO

Governor of Rhode Island.
DEAR GOVERNOR DEL SESTO : I share completely your belief that the reunification of family groups is of paramount importance.
As you know, the administration has already taken forward steps in this direction but the need now is for immediate action to solve the whole problem and that is what I propose to recommend as soon as the Congress convenes in January.
Sons and daughters, brothers and sisters, and aged parents - long separated - have been waiting year upon year, patiently and hopefully, for a chance to join their blood relatives in the United States, a chance which has been denied to most of them. Family members in the United States want nothing more than to take these same relatives into their own homes and, where necessary, to provide them with employment opportunities.
The family members waiting abroad, therefore, would not be coming to the United States as strangers in a new land where, all alone they might face formidable difficulties in adjusting to a new language, to new customs, and to a totally new environment. Rather they would be welcomed into established households, they would be materially assisted in their economic needs, and the whole process of their integration and assimilation into the American community would be eased and quickened - to say nothing of the heartfelt joy and happiness which all such family members would feel with the arrival of loved ones from abroad.
Under the McCarran-Walter Act, thousands of U.S. citizens - including those of Australian, Hungarian, Greek, Israeli, Italian, Japanese, Lebanese, Philippine, Portuguese, Spanish, and Yugoslav extraction - were encouraged to file applications to sponsor the entry of their relatives into this country. They filed these applications and many have been waiting for years, and are still waiting, for their relatives to arrive. They wait in vain because their relatives, except for a few, have been unable to come to the United States and cannot come here. The hopes that were raised by the McCarran-Walter Act have proved a cruel disappointment.
Today there are thousands of family members who are registered, or included in registrations, on lists of over-subscribed quotas. To reunite these people with their relatives in the United States, we must have special legislation that will quickly, solve this whole problem by bringing such people into this country without regard to quotas.
I will therefore recommend in January that this problem be handled by a law dealing specifically with it.
Richard Nixon, Exchange of Telegrams Between Vice President Nixon and Governor Christopher Del Sesto of Rhode Island Online by Gerhard Peters and John T. Woolley, The American Presidency Project https://www.presidency.ucsb.edu/node/273671