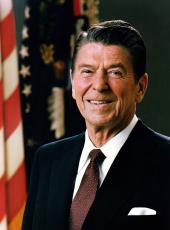 Exchange of Remarks at a Luncheon Hosted by President Francois Mitterrand of France in Yorktown, Virginia
President Mitterrand. Mr. President, Madam, dear friends:
It is unusual to be able to live historical moments in a setting such as this one, and yet that is what has happened on this very fine and sunny day of Franco-American friendship.
The age-old traditions of the navy, when they receive illustrious guests, the vocal welcome and the bosun's whistle, which remind us of the glorious times of sail and all the soldiers of the sea that were lined in order to welcome you with the greatest possible dignity, Mr. President, on a few square meters of French territory—all this has brought us into this dining room of the commanding officer of the De Grasse, where we have just had our lunch with some of the best officers of the French Navy.
Now today, I would like, with your permission, to remain in the sort of intimate note that has already been struck in order to say that this has enabled me, Mr. President, to get to know you even better and to appreciate the humor of your conversation and the way you can tell a story, and also the very cheerful vigor with which you carry the burden, one of the heaviest burdens that exists on Earth, that is, being the leader of the great American people.
Now, I think our mutual knowledge of each other and a more profound knowledge will, I'm quite sure, help us and enable us to get over the inevitably difficult times that do sometimes inevitably exist in political discussions between two men who've come from different horizons and who've reached the same supreme responsibilities.
Now, we may not always be able to convince the other of what we're trying to do and achieve, but we're absolutely sure that in any case we will on all occasions enlighten our discussions in the, shall we say, the powerful sun of real frankness. And I'm quite sure, also, that we will also find that the areas of agreement would, in fact, always prove far broader, far wider than any possible differences.
And you can, at any rate, be assured, Mr. President, that we in France, we feel very close to the United States and the American people on the main issues that concern the world, and this we will always be able to talk about in a spirit of great friendship.
May I also, Mr. President, say on behalf of my wife and myself and all those who are present here today that we are very much struck to see the way you, in fact, demonstrated one of, perhaps the rarest virtues, and yet one of the most necessary for a statesman—the courage of someone who has just paid, paid dearly, paid with his own blood—his total commitment to the service of his country. And it is therefore, with deep emotion and very great joy, that we have seen you again here today, Mr. President, in, if I may say so, in such very good shape.
And I would like to raise my glass, Mr. President, to your health and to the generous smile of Mrs. Reagan and to the prosperity of the noble American people.
President Reagan. Well, Mr. President, Madam Mitterrand, thank you for your hospitality and again let me welcome you to the United States—but since we're currently on French territory, maybe I should welcome you to our waters. [Laughter] And I'm particularly pleased that I can introduce today our new Ambassador to France, Evan Galbraith, distinguished and learned businessman who has spent many years in your country developing a great appreciation and affection for it.
I think you would agree it's slightly unusual for France as the visiting nation to host the first meal between our two countries. Actually, this is symbolic and fitting. During our revolution, when we were destitute of resources, France gave us the monetary and military sustenance to continue and eventually win our struggle for independence. So, at this lunch we remember and thank the French people for the nourishment they gave to our cause 200 years ago as well as thanking you, Mr. President, for the sustenance that you have provided today.
It is also appropriate that we're on the French frigate, the De Grasse, as a reminder of the contribution of the great admiral, the same name, made to American freedom. The United States has honored the Count De Grasse for his essential service to our Republic. And our own Count De Grasse is anchored only a short distance away. These two ships lie anchored in peace and friendship, yet each is vigilant and ready to defend the other if threatened, for France and the United States are old, firm allies. You came to America when we needed you, and we went to France when you had need of us.
Tomorrow—well, the commitment still holds. This old alliance would prove just as young and strong and victorious as it did in 1781, 1918, and 1945. Tomorrow marks the anniversary of Cornwallis' surrender. I'm certain that 200 years ago, many an American was raising his glass to salute his French friends for their crucial aid in that victory.
Today, in the same spirit, Mr. President, Madam Mitterrand, I would like to toast our French friends a long alliance and our many victories together.
President Mitterrand. Thank you very much.
Note: President Mitterrand spoke at 2:52 p.m. on board the battleship De Grasse. Earlier, President Reagan was accorded a welcoming ceremony with full military honors on arriving at the De Grasse from the U.S. Coast Guard Station in Yorktown.
President Mitterrand spoke in French, and his remarks were translated by an interpreter.
Ronald Reagan, Exchange of Remarks at a Luncheon Hosted by President Francois Mitterrand of France in Yorktown, Virginia Online by Gerhard Peters and John T. Woolley, The American Presidency Project https://www.presidency.ucsb.edu/node/246446