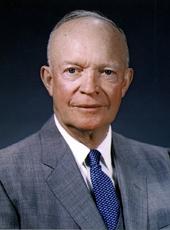 Exchange of Messages Between the President and the King of Laos on the Occasion of Constitution Day
[ Released May 20, 1954. Dated May 10, 1954 ]
His Majesty Sisavang Vong

King of Laos

Luang Prabang, Laos
To Your Majesty and to the people of Laos on the occasion of Constitution Day, I am delighted to send the best wishes of the people of the United States.
It is our fervent hope that your sovereignty and independence will be strengthened and preserved. I am convinced that the forces of freedom, working in unison, will repulse the Communist imperialism that would enslave your Kingdom and your people.
In this crucial struggle of all free men against those who would reduce Laos to the status of a satellite of world Communism, I know that Your Majesty and the people of Laos will continue to provide an heroic and inspiring example for all.
DWIGHT D. EISENHOWER
Note: His Majesty Sisavang Vong's message of May 12 follows: To the President of the United States of America:
Your Excellency was good enough on the occasion of the anniversary of the Laotian Constitution to extend to me and to the people of Laos the best wishes of the United States of America. In the name of the people of Laos and in my own name I thank Your Excellency for that friendly message. The Kingdom of Laos has struggled and continues to defend its territory against the foreign invasion with the same stubbornness. It can continue the struggle only with the substantial assistance of the United States of America and the moral and material support of the free world.
SISAVANG VONG
Dwight D. Eisenhower, Exchange of Messages Between the President and the King of Laos on the Occasion of Constitution Day Online by Gerhard Peters and John T. Woolley, The American Presidency Project https://www.presidency.ucsb.edu/node/232027