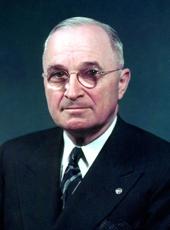 Exchange of Messages Between the President and Prime Minister Attlee on the Anniversary of the Signing of the Foreign Assistance Act.
I AM confident that I speak not only for myself but for the people of the United States in expressing appreciation for your message on this first anniversary of the signing of the Foreign Assistance Act of 1948.
The record of the countries participating in the European recovery program during the past year is one of great accomplishment in industry, in agriculture, in trade. It is a record of tireless hard work. It is also, I believe, a record of achievement through cooperation. The Organization for European Economic Cooperation so recently established by the countries working together toward full recovery has demonstrated to us all the meaning of true international action.
We in the United States are proud that we have had a part in this great mutual effort. We are confident that the progress toward true recovery which has been so marked during this first year will continue and that the high goals which have been set will be fully realized.
HARRY S. TRUMAN
Note: prime Minister Attlee's message, released April 3, 1949, follows:
"A year has now gone by since you signed the Foreign Assistance Act of 1948 and gave us hope and help when most we needed it. In the short space of these twelve months, nineteen free nations and territories, joining together in the organization for European Economic Cooperation have embarked on a cooperative effort which is without precedent in times of peace. As a result during the last year the whole economic scene in Western Europe has been transformed to a degree which must astonish all of us when we recall the uncertainties and perils of the immediately preceding years. That this progress towards full recovery has been and continues to be accomplished is due to the generosity and far-sightedness of the people and government of the United States. Without their help the achievements of the past year would not have been possible nor would Europe now have the confidence to go forward to grapple the great tasks which yet remain to be fulfilled. On this happy anniversary so pregnant for the peace of civilisation we send to you and to the American people our heartfelt thanks."
Harry S. Truman, Exchange of Messages Between the President and Prime Minister Attlee on the Anniversary of the Signing of the Foreign Assistance Act. Online by Gerhard Peters and John T. Woolley, The American Presidency Project https://www.presidency.ucsb.edu/node/230112