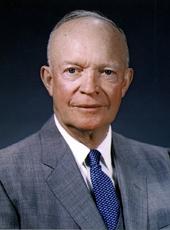 Exchange of Messages Between the President and Chancellor Adenauer Concerning the Uprisings in East Berlin and East Germany
[Released June 26, 1953. Dated June 25, 1953]
I HAVE RECEIVED with deep interest and sympathy your message of June 21st. The latest events in East Berlin and Eastern Germany have stirred the hearts and hopes of people everywhere. This inspiring show of courage has reaffirmed our belief that years of oppression and attempted indoctrination cannot extinguish the spirit of freedom behind the Iron Curtain. It seems clear that the repercussions of these events will be felt throughout the Soviet satellite empire.
The United States Government is convinced that a way can and must be found to satisfy the justified aspirations of the German people for freedom and unity, and for the restoration of fundamental human rights in all parts of Germany. It is for the attainment of these purposes that the government you head and the United States Government have been earnestly striving together. Although the Communists may be forced, as a result of these powerful demonstrations in East Germany to moderate their current policies, it seems clear that the safety and future of the people of Eastern Germany can only be assured when that region is unified with Western Germany on the basis of free elections, as we urged the Soviets to agree to in the notes of September 23, 1952 dispatched by the American, British and French Governments. It is still our conviction that this represents the only realistic road to German unity, and I assure you that my Government will continue to strive for this goal.
In their hours of trial and sacrifice, I trust that the people of Eastern Germany will know that their call for freedom has been heard around the world.
DWIGHT D. EISENHOWER
Note: Chancellor Adenauer's message of June 21 follows:
- Mr. President:
The people of the East sector of Berlin and of the East zone have despite the use of Soviet troops and tanks risen up unarmed against the regime of terror and force and demanded their rights of freedom. Many have had to pay for their bravery and courage with their lives. Nothing shows more clearly than the outcry of these tormented people how intolerable the conditions in this area of Central Europe are. I should like to appeal to you urgently, Mr. President, in accordance with a resolution of June 10 of the German Bundestag, of which the American Government was notified, to do everything in your power in order that these conditions may be done away with, the human rights which have been violated may be restored and the entire German people may be given back the unity and freedom which alone guarantee a lasting peaceful development in Europe.
ADENAUER
Dwight D. Eisenhower, Exchange of Messages Between the President and Chancellor Adenauer Concerning the Uprisings in East Berlin and East Germany Online by Gerhard Peters and John T. Woolley, The American Presidency Project https://www.presidency.ucsb.edu/node/231678