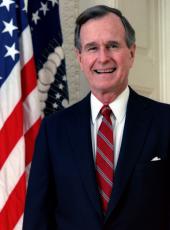 Exchange Between the Vice President and Reporters on the President's Recovery Following the Attempted Assassination
The Vice President. The medical reports were very good. I had a very short visit with him. He'd taken a nap. When I walked in there he was awake, and I had a very good talk with him. What he really needs is rest. I tell you, the report from [Physician to the President] Dr. Ruge, when he briefed the Cabinet and briefed the leadership, was extraordinarily good. The President, to me, looked well and was very responsive, asked with his unfailing courtesy about Barbara, my wife. And Nancy Reagan, Mrs. Reagan, was there.
So, I feel the same thing the country feels, a great sense of relief and feeling that he is on the road to recovery. It's a turmoil around there. I thought in intensive care that everybody would be whispering, but it's like Grand Central Station.
But he's doing very well. Very well. And everything seems to be proceeding. I just want to go up and walk out on the Senate floor, chat with some of my friends there, and tell them about this visit, and then go back. I have to get back to meet with The Netherlands Prime Minister.
Q. There is a report that there's something of a rift among some of the Cabinet members, particularly Secretary Haig and Secretary Weinberger. Is your role in any way involved in trying to heal that rift?
The Vice President. No, and I don't detect any such rift. And I think—the thing, I think, from my vantage point, which admittedly, with some of it at 30,000 feet traveling back, was that things proceeded smoothly, in an orderly fashion. I sense a real, calm determination to go ahead. The President—there's no need for any emergency procedures, the power of the Vice President to do anything. And I have not detected, nor do I believe there's any such rift.
Q. Thank you, sir.
Q. You won't be assuming any special powers, Mr. Vice President?
The Vice President. No. Absolutely not. And it's orderly, and just to do what I can to assist, I will be taking over some of the meetings that the President would have participated in. But I'm in most of them anyway, so, business as usual to the best we can do it.
Note: The Vice President spoke at 11:09 a.m. in a hallway of the Capitol.
Prior to his visit with the President, the Vice President chaired a meeting of the Cabinet and then met with the bipartisan congressional leadership.
George Bush, Exchange Between the Vice President and Reporters on the President's Recovery Following the Attempted Assassination Online by Gerhard Peters and John T. Woolley, The American Presidency Project https://www.presidency.ucsb.edu/node/246351