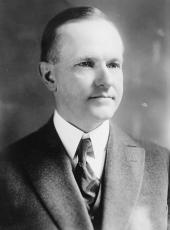 Excerpts of the President's News Conference at White Pine Camp in Paul Smiths, New York
MR. [CHARLES] GROVES [Boston Post]: Mr. President, I have been asked by my colleagues to express our very great appreciation for your courtesy and consideration during this summer. The newspaper work of course has its difficulties and this has been an important assignment, important to us, important to our newspapers, and important to the public. But your consideration has been constant and I think that the little matter of the trip to Plymouth is an example of the fact that you had our comfort in mind. And especially do we appreciate the manner in which you have ordered the activities of this office, the fact that you have held your conferences regularly twice a week and that you have brought your guests, your important guests, down here so that we might see them at this office instead of chasing them all over the country. And I am sure that I express the feeling of the correspondents when I say that we are very very glad that you had a pleasant summer and that your health has been maintained, and we do appreciate everything that you have done for us.
PRESIDENT: I am very much gratified to know that. I know the difficulties that the members of the press usually have on summer vacations. In fact, it is a tradition of the Presidential office, with the old heads in there like Mr. Forster, that whenever the President goes away on a summer vacation that it is always very difficult for the members of the press that go with him. Usually there isn't much for them to write about and they are sent there by their paper and are supposed to furnish copy, and they have to resort to a good deal of fabrication and fable. Of course there is always some of that that goes on. I don't think it is particularly important, though it is important that the Presidential office should be correctly represented to the country and the attitude of the Presidential office should be accurately interpreted. But that isn't a personal matter that the President, I suppose, cares very much about. But I regard it as rather necessary to the carrying on of our republican institutions that the people should have a fairly accurate report of what the President is trying to do, and it is for that purpose of course that those intimate conferences are held. Now, I don't regard, as you men know, that it is at all necessary for the President to give out a verbatim statement of everything that may be discussed here, but rather to leave it to the different reporters, because they are reporters, and a great many times can do those things on the whole better than the President could do them and leave it to them to make their interpretation. That of course is where the art of reporting comes in. I have found the interpretation of these press conferences given to the country on the whole accurate, and I think helpful to the country and fairly satisfactory to me. I think you have done rather better than I could have done, if I had undertaken to sit down twice a week and dictated a statement to be given out. As I have indi-cated once or twice before, if I did that I would become a reporter and I don't know what would become of the occupation that you gentlemen now have. I don't want to compete with your business. I am sure that we all had a very pleasant time up here and look forward to having another pleasant summer next year.
I expect to have the press conference Friday afternoon, not being able to provide by Executive Order for the members of the press to have a half holiday. I have exercised my authority in behalf of the press once or twice. I think you will recall that at one Gridiron dinner I suggested that the press here was so efficient that I thought their salaries ought to be raised. How many have found a favorable response? Those of you that have, I would like to have you raise your hands. [Stenographer's note: No hands were raised.]
MR. WILE: Wouldn't it be a good idea to investigate their income taxes?
PRESIDENT: I am afraid my influence with the press is not very great.
* * * * * * *
I sometimes tell people that I have one distinction. I suppose I am the healthiest President that they ever had. I am sure that the outdoor life has refreshed me, invigorated me, and been very beneficial. I have about the same amount of routine work to do wherever I am. I do it under a little different surroundings and get a new reaction from it, all of which results in giving me the benefit of a change.
Source: "The Talkative President: The Off-the-Record Press Conferences of Calvin Coolidge". eds. Howard H. Quint & Robert H. Ferrell. The University Massachusetts Press. 1964.
Calvin Coolidge, Excerpts of the President's News Conference at White Pine Camp in Paul Smiths, New York Online by Gerhard Peters and John T. Woolley, The American Presidency Project https://www.presidency.ucsb.edu/node/349168