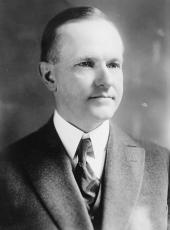 Excerpts of the President's News Conference
There hasn't been anything done about the unofficial side of the inauguration, or as to a parade or a reception. Some of the people that came in to see me yesterday did tell me that they had seen and known of many inaugurations here in Washington, and that it was the general consensus of opinion that that which was held four years ago was on the whole the most satisfactory of any that have been held. Of course sometimes we suffer badly on account of bad weather, trying to have a parade under very adverse circumstances, so I am going to make further inquiries before anything is done about a parade or a reception. I haven't felt very favorably about having a reception. If they want to have anything of that kind it will be better to call it a ball. That as you know has not been very attractive to me, though I approve of people that like to dance dancing as much as they wish.
PRESS: Mr. President, does that mean that if the people express a preference for the ball it will meet with no objection on your part?
PRESIDENT: No. But if they are going to have a reception or a ball, I should judge it would be more agreeable to those that want to go to have a ball.
PRESS: Mr. President, do you mean by that a charity ball or something of that kind outside the White House?
PRESIDENT: Well, you can't have a ball in the White House. You couldn't get anybody in there, not even the newspapermen. Those who had the picking out of the people that should be invited to a ball in the East Room would have some trouble.
PRESS: Would you attend the ball, Mr. President?
PRESIDENT: YOU mean if they have one? I don't think so.
Source: "The Talkative President: The Off-the-Record Press Conferences of Calvin Coolidge". eds. Howard H. Quint & Robert H. Ferrell. The University Massachusetts Press. 1964.
Calvin Coolidge, Excerpts of the President's News Conference Online by Gerhard Peters and John T. Woolley, The American Presidency Project https://www.presidency.ucsb.edu/node/349083