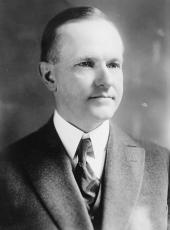 Excerpts of the President's News Conference
There is considerable speculation as to whether I am likely to change or not. I don't anticipate to change very much. I have tried in the conduct of my office to be natural and I don't want to change that attitude. There are two or three other people that have served with me in the conduct of the affairs of the United States that I should be pleased if they changed a little—that I have to change from saying "no" to saying "yes."

* * * * * * *
The present increase in business activity I judge is what naturally might be expected after an election. Elections are always uncertain and people are inclined to wait and see how an election comes out before they commit themselves. I heard of one man before the election that said he had on his desk an order for $50,000,000 worth of merchandise, but that he wouldn't be able to place the order until he knew the result of the election. I think other orders have been given to be filled pending—or in accordance with the election result. Of course those orders now coming on the market are but the natural result of a business activity greater than that preceding the election. There were some suggestions, I think you will recall, prior to the election and during the summer that somebody that was interested in my election was putting up the price of wheat. I didn't know that anyone was doing that. I noticed that yesterday the price of wheat was $1.60 a bushel, and that it has gone up considerably since the election, which would probably indicate that either the rise in wheat was not due to the influence of the election, or else the people do not know yet that the election has been held. I judge that the result of the election, the decisive result, indicating an attachment of the people to their Constitution and the present method of transacting their business, a desire that enterprise and business activities be left in the hands of private individuals rather than a transfer of ownership to the control of the Government, has undoubtedly had an effect in stimulating private enterprise. It has given an evidence of stability on which people are willing to make investments, make commitments, plans for development, and plans for the buying and selling of merchandise, which results in an increase in production.
Source: "The Talkative President: The Off-the-Record Press Conferences of Calvin Coolidge". eds. Howard H. Quint & Robert H. Ferrell. The University Massachusetts Press. 1964.
Calvin Coolidge, Excerpts of the President's News Conference Online by Gerhard Peters and John T. Woolley, The American Presidency Project https://www.presidency.ucsb.edu/node/349079