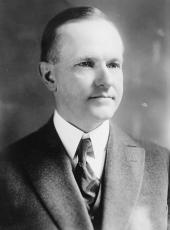 Excerpts of the President's News Conference
I am reminded that when I came here I did a good deal of wondering whether I would be able to be helpful to the members of the press in these conferences that we have, and especially as to whether I wouldn't find it more or less of a bore on my part and, perhaps, not particularly pleasant. I haven't found it that way at all. In fact, I have come to the conclusion that I rather look forward with pleasure to having you come in twice a week, in order that I may talk to you, give you a little of the idea I may have of what the Government is trying to do, and satisfy you, insofar as I can, on the questions that you ask.
* * * * * * *
I am reminded too that my boys have returned back to school. They are just such boys as some of you have, I have no doubt. I hope that they can remain there at school without much of anything in the way of publicity. When they are here anything that they can do to be helpful, or that we can do, we are glad to do, but I sent them up to Mercersburg, which is a very excellent school. They have always been in the public schools at Northampton and would have been there now, had we remained in Massachusetts, but there is no one in Northampton now, but my housekeeper. I wanted them to be under more supervision than that, so I sent them up there in order that they might be out of Washington and have that opinion, which I think boys are entitled to have, of privacy in their school affairs. Dr. Irvine has been very helpful to them up there, and I presume that if you make any application to him, or any of your associates, to get any story about the boys up there, he will have to tell you that we very much prefer that they be not subjected to publicity while they are there.
Source: "The Talkative President: The Off-the-Record Press Conferences of Calvin Coolidge". eds. Howard H. Quint & Robert H. Ferrell. The University Massachusetts Press. 1964.
Calvin Coolidge, Excerpts of the President's News Conference Online by Gerhard Peters and John T. Woolley, The American Presidency Project https://www.presidency.ucsb.edu/node/349001