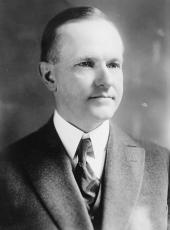 Excerpts of the President's News Conference
I am not quite certain whether you have saved an hour this morning or lost half an hour. Generally the meeting of the Cabinet lasts until about one o'clock. Not always. We never know. Sometimes it takes two hours and sometimes not more than 20 minutes. I presume you know how a Cabinet meeting is held. The President sits at the head of the table and asks each member along down whether he has anything to present to the President or the Cabinet for consideration. Oftentimes you go clear down through the list and each one says, "Not anything this morning." Of course that generally means rather a short Cabinet meeting.

* * * * * * *
The Cabinet took up and discussed this morning, particularly, the agricultural situation, and it developed there that the cotton situation is fairly satisfactory. There is trouble in the South, of course, in certain sections, from the Boll Weevil, but, apparently, the general result of the cotton crop section for the present year will be to give them a larger money return than they had in pre-war times. The corn situation is also one that is fairly satisfactory. The price of corn is remarkably high and there isn't any real difficulty in that direction. The same is substantially true in relation to the animal industry, hogs and cattle. The encouraging thing about the raising of hogs is the very large number of them that there are on the farms. Of course, if the farmer has two hogs to sell instead of one, why he gets an additional income, even though the price isn't very much larger. The difficulty is particularly in the wheat belt and in that belt where there is oftentimes an insufficient rainfall. It makes the production of wheat cost more, and the production, per acre, of course, is not so large. There is a large production of wheat all over the world. Apparently, Europe will import about 200,000,000 bushels less of wheat this year than it has in preceding years.
We also discussed the effect that is produced by the prevailing rate of good liberal wages in the industries on the agricultural situation, and it was rather the opinion of those who were best informed that they had resulted in a very much larger increase in the consumption of meat products. That is where there is a hopeful situation for the hog industry and the cattle industry, but it does not have a corresponding good effect on the wheat industry, because as the standard of living begins to go up and they eat more meat, apparently they eat less wheat. So that they are getting the benefit in one direction, but not the benefit in another. We don't know yet just what is going to be proposed in the way of a remedy. The Secretary of Agriculture is making a particular study of the wheat situation and expects to be able to report on that to me by Thursday or Friday of this week. When that report comes in, it will undoubtedly set out the facts that will enable us to make some determination of what kind of a remedy can be proposed. There is great anxiety and great desire to do everything that we can for the relief of any of the farmers who are in distress, along sound economic lines, relieving a temporary situation perhaps, by trying to formulate a plan that will bring agriculture back on to a sound economic basis, so that we can have a balance of production. It may be that some of those that are raising wheat would do well to engage in the raising of some other kind of agricultural products. It may be that we ought to look about and see what it is that we are importing in the way of food products, and suggest that the wheat raisers, if they can try to provide us here in America with some of those things that are being brought in. Sugar occurs to me right away as one of the things that we import to quite an extent, and probably shall for some years to come. It may be that those who are now raising wheat can profitably raise sugar beet or flax, and that we may be able to provide some remedy along that line. We also have in mind the possibility of some regional conferences. Some locality wants one thing done and another locality another thing, so that by regional conferences with the Secretary of Agriculture and perhaps by a representative of the Department of Commerce, for it is a commercial activity as well as an agricultural activity we must consider, that in that way we can furnish some needed relief.
Source: "The Talkative President: The Off-the-Record Press Conferences of Calvin Coolidge". eds. Howard H. Quint & Robert H. Ferrell. The University Massachusetts Press. 1964.
Calvin Coolidge, Excerpts of the President's News Conference Online by Gerhard Peters and John T. Woolley, The American Presidency Project https://www.presidency.ucsb.edu/node/349000