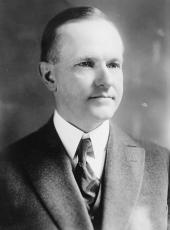 Excerpts of the President's News Conference
I don't know as I can say there were any particular topics under discussion when the Senators were at breakfast this morning. I expressed to them a desire that they do what they could to expedite legislation. I received a report from Senator Smoot that they expected to be able to report the tax bill tomorrow or Monday. I think he said there was a suggestion that there be no session of the Senate tomorrow, in order to give the Finance Committee the entire day to consider the tax measure. The discussion didn't take up any particular bills or any particular topics. I wanted to find out what the prospect was of pushing legislation ahead, which everybody indicated they wanted to do and on which they thought the prospect was good. I don't know when I shall call in any more Senators or Representatives to break bread with me. I am liable to call them in any time. I am likewise liable not to call them in at all. I like to keep in touch, of course, with the members of the House and Senate. They are very busy men and unless I call them in in considerable numbers at one time, I don't have a chance to keep up that contact that I would like to keep. I can only see three or four or five men here in this office an hour, if they come in one at a time, usually for a period of about fifteen minutes, during only about three hours that I can devote to anything of that kind in the morning; so that unless I call them in in blocks, I don't have a chance to keep that intimate contact that otherwise I would like to have. Sometimes during the past season I have been able to do that Saturday afternoons on the Mayflower, but I have not been out on that for some time. Perhaps we can start up some trips on that in the near future.
Source: "The Talkative President: The Off-the-Record Press Conferences of Calvin Coolidge". eds. Howard H. Quint & Robert H. Ferrell. The University Massachusetts Press. 1964.
Calvin Coolidge, Excerpts of the President's News Conference Online by Gerhard Peters and John T. Woolley, The American Presidency Project https://www.presidency.ucsb.edu/node/349046