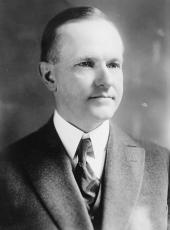 Excerpts of the President's News Conference
I have a suggestion here that, on account of the very great calamity that has overtaken Japan, the United States might consider turning over to them the Philippine Islands. That, of course, is somewhat a novel suggestion. I don't know how serious the suggestion is, but I do know that the United States Government and the people of the United States ought to give every possible assistance and every possible relief to the people of Japan. And I think you can perform a public service, demonstrate the friendship that Americans feel for Japan, by stressing the need of an immediate response to the appeal that is going to be made through the Red Cross for funds to carry on the work of relief in the stricken area. It is apparently one of the greatest calamities that nature ever inflicted on mankind anywhere in the world. Greater loss of life, and apparently, greater destruction of property than any other experience that mankind has had anywhere in history. So that you can't make any too strong the determination of our Government to put all its resources that we reasonably and properly can into the relief. I have called on the Navy Department, I have called on the War De-partment, called on the Shipping Board. Of course, I have been in conference with the Red Cross, and I have issued my proclamation. The Red Cross will make its appeal today for immediate subscription of $5,000,000. Ships will go there, food and supplies through the action of the War Department will be sent there. We shall do everything we can do in the way of relief. I don't know about the Philippines. They haven't proven a source of income to our Government. I don't know whether they would prove to be a source of help to the Japanese Government. I am interested in bringing that to the attention of you because it shows an inclination to take up the work and shows that America is glad to do everything possible for the help of the Japanese people.
Source: "The Talkative President: The Off-the-Record Press Conferences of Calvin Coolidge". eds. Howard H. Quint & Robert H. Ferrell. The University Massachusetts Press. 1964.
Calvin Coolidge, Excerpts of the President's News Conference Online by Gerhard Peters and John T. Woolley, The American Presidency Project https://www.presidency.ucsb.edu/node/348997