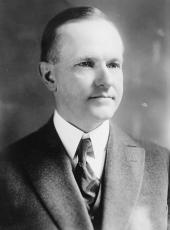 Excerpts of the President's News Conference
PRESS: Mr. President, would you care to express your views specifically on the Senate resolution calling for Secretary Denby's resignation?
PRESIDENT: No, I don't care to discuss that.
PRESS: Mr. President, has any report been received from the Interior Department as to the wisdom of the leases?
PRESIDENT: To me?
PRESS: Yes, sir.
PRESIDENT: No. No report made to me. Of course it must be kept in mind that this investigation is being carried on by the Senate and up to the time that the suggestion came that there was grave suspicion of corruption there was very little question I think being made about the wisdom of the leases. Of course when the question of corruption or fraud comes up that vitiates everything and throws a question over the entire transaction and puts a very different light on it from that in which it was viewed before the question of fraud or corruption arose, and that is the reason why I have never made any inquiry about the validity of the leases. That question will now come up, of course, because the United States Government quite naturally will want to recover any property that may have been disposed of if it was in any way tainted with fraud or corruption. My statement of Saturday night was clear and definite that I propose to take action for those purposes, and to have action taken in the courts.
* * * * * * *
Another inquiry as to whether the direct use of Federal funds is contemplated in the consideration of relief measures for the banks of the northwest. I am not quite certain what the question means, but according to my interpretation of it, I don't think the direct use of Federal funds is contemplated. There are two plans under consideration, or perhaps a combination of the two. One is for relief by the Federal Reserve Banking System, and the other is a relief measure by a combination of different moneyed interests to provide some capital and a local organization for administering relief, and they of course could be assisted financially by the War Finance Corporation. That is the plan that the War Finance Corporation has adopted right along, of lending money to the banks, or lending money through some local organization. Otherwise the War Finance Corporation would have to have such a large staff in the field itself, necessarily of men that were acquainted with local conditions, that before they could get an organization the acute need for relief would probably have passed and the opportunity for relief would be gone.
Source: "The Talkative President: The Off-the-Record Press Conferences of Calvin Coolidge". eds. Howard H. Quint & Robert H. Ferrell. The University Massachusetts Press. 1964.
Calvin Coolidge, Excerpts of the President's News Conference Online by Gerhard Peters and John T. Woolley, The American Presidency Project https://www.presidency.ucsb.edu/node/349031