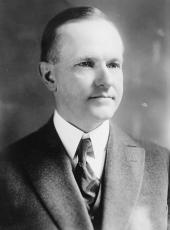 Excerpts of the President's News Conference
Here is an inquiry about some Cabinet meetings in 1921 and 1922. I don't recall that the proposal to make the lease of oil lands was ever discussed in the Cabinet, before I became President. I don't say that it wasn't. But I don't recall. I think I should have recalled, had it been discussed at any length, or been referred to.
PRESS: Mr. President, were you present at all of those meetings?
PRESIDENT: Substantially all. Of course I was away in the summer of each year and once in a while I would be away speaking somewhere. I was away in August, 1921, and August and September, 1922. Sometimes I would be out of town on a trip to Chicago, or St. Louis, or somewhere.
I have here a number of inquiries about the Senate investigation into the oil leases. My position about that is as already indicated, that the Department of Justice is observing the course of events there and will very carefully review any testimony and take whatever action is necessary to protect the interests of the United States, and to punish any infraction of its laws. There seem to be two questions. I have already indicated them. One, and perhaps the most important is to undertake to punish and bring to justice anyone that is guilty in this situation in any way that is a violation of the criminal laws of the United States. Now I don't want to be understood as jumping at any conclusion. I am very loath to believe that any one has been guilty of any criminal intent, but it is very evident that evidence has already been given up there that requires explanation. It requires investigation, and it points toward a criminal action. That of course will be investigated by the proper authorities to see whether any criminal action will lie. You can't start a criminal action on mere rumor. It requires, of course, substantial evidence, which can be produced before a Grand Jury and which can later be produced at trial. That will be taken care of, it goes without saying, if anything of that kind appears. The other matter is to see whether the United States suffered any injury by leasing these oil lands. That is a separate question and while it might be of considerable importance financially, it isn't the main question here. The main question is whether there has been any criminal wrongdoing. If the lease that has been made doesn't seem to be a proper one, why of course, appropriate action would be taken either for its annulment—I don't know of any other action that could be taken. In either instance every proper action will be taken to protect the rights of the United States and its property, and to protect the citizens of the United States against criminal wrongdoing.
I didn't know that any work had been stopped in the naval oil reserves. I am very sure that if that has been stopped it has been stopped by those that hold leases there, if that is the meaning of this question. I am certain the United States Government has taken no action in that direction.
* * * * * * *
Here is another inquiry about the recognition of the Russian Government by the British Labor Government. That has not been done yet, though I saw a report in the morning paper, I think, that it was expected that the Labor Government would recognize the Russian Government. I don't know that that would have any effect on the action of the United States Government as to its recognition of Russia. The executive end of the Government you know gets foreclosed sometimes by the legislative end, even on those things that the executive end alone has constitutional authority to act on. I think there is pending in the Senate an investigation of the question of whether the Russian Government ought to be recognized. Something may develop there that will produce information that would be controlling. The investigation is in such hands that I know that whatever develops there will be pertinent to the subject. So that I think at present I am disposed to wait and see what that investigation may develop. I don't know of any developments that have taken place since my message to the Congress that would in any way change the position that I took in the message. My position there was plain.
Source: "The Talkative President: The Off-the-Record Press Conferences of Calvin Coolidge". eds. Howard H. Quint & Robert H. Ferrell. The University Massachusetts Press. 1964.
Calvin Coolidge, Excerpts of the President's News Conference Online by Gerhard Peters and John T. Woolley, The American Presidency Project https://www.presidency.ucsb.edu/node/349030