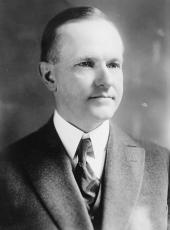 Excerpts of the President's News Conference
I have here several inquiries about the Teapot Dome. As I indicated at our last conference, that whole question is under most careful and searching investigation by the Senatorial Committee. The Department of Justice at my direction went there yesterday to observe and to see what evidence might disclose, on account of certain rumors which came to me. That is all that can be done at the present time—to observe the course of the investigation up there and to proceed in accordance therewith. I don't suppose it needs to be stated that if any irregularities are disclosed, or any misdeeds on the part of any one, they will be subject to investigation by the Department of Justice, and such action taken as the laws of the country require. I want it to be understood in making that statement that I am not making any accusations against any one, or have any opinion about the outcome of the investigation. Rumors and so on are flying around. Of course, wherever that occurs those people are summoned in before the Committee and asked to give their evidence. It may be that before the Committee finishes those hearings that discrepancies and so on that now exist will be completely cleared up. But in the meantime the Department of Justice will watch the situation and be prepared to take whatever action is warranted by the national laws. That observation applies generally. As I have already stated at previous conferences, I can't indicate that the Department of Justice is proceeding against this man, or that man, or the other. To do that would probably tend to dry up sources of information that would be necessary to have as evi-dence. You know evidence is very difficult to secure. It has to be done by secret investigations, and the Department of Justice I imagine, of course I myself, if I happened to know about those things, couldn't disclose them other than to say that an investigation of any alleged wrongdoing will be made; and the direction it is taking, or anything of that kind, necessarily has to be withheld. Otherwise, it would defeat the ends of justice.

* * * * * * *
I haven't any recent information about the South Dakota bank situation. As I think you already know, Mr. Meyer and Mr. Dawes have started for that region, stopping yesterday I think in Chicago, in order to organize the banks there for the purpose of seeing what additional credit facilities could be secured and what help they could carry from that region to those banks that are now in distress in North and South Dakota. I haven't had any report from either one of them, so I haven't any information as to what they accomplished at Chicago. Of course the Government will do everything it can do to relieve that situation, and that is substantially all the declaration I can make about it. I don't want to have it said in the press that the Government can cure an incurable situation, or that where losses have been made through depreciation of property and loans have been found to be insecure and uncollectible it is possible for the Government to take action that will remedy all that. The Government can't do that, but it will assist in any way in which it can assist to furnish adequate credit facilities, or credit that may be needed at the present time, but of course nothing in the way of undertaking to replace losses that have already accrued; though its action might help very greatly to retrieve losses perhaps by an extension of credit to put the debtor in a position where ultimately he would meet his demands in full.
Judge [Elbert] Gary of the [U. S.] Steel Corporation came in and I conferred with him about the abolition of the twelve hour day, which the Steel Corporation has put into operation. I asked him about the financial effect of it, and he said that it increased the cost of their production about ten per cent. They hope that through improvements and inventions and better operation they would gradually work that off, but that was the immediate effect of increasing the cost of their production by about that amount. Perhaps that is one of the things that might be remembered when we find we have to pay high costs for manufactured articles. We can't have good conditions for everybody without paying the price. If we are going to have an eight hour day and high wages, which of course we all want to have, we must remember that in order to have it we must be prepared to make something of a sacrifice for it. I think we ought to do it. But we ought to do it uncomplainingly, and we ought to do it without undertaking to assess the blame in some other direction where there is no fault.

* * * * * * *
I don't think I have anything especially to say regarding the reported death of Lenin, other than what would occur to anybody, —that he cast a good deal of influence over the destinies of Russia for a considerable length of time and it would be very unbecoming of anyone in the Government of the United States to undertake to make any criticism of a man in his position having passed away. Let us hope that the work he did, though it is difficult to see just how it did, worked for the benefit of Russia and for the betterment of civilization.
I don't foresee any change, answering an inquiry here, that may be brought about in the Russian policy of the United States by reason of his passing away. That would depend upon what happens. If the policy there should be changed, it would change our policy. If it doesn't change, ours will not. My attitude toward that was set out, of course, in my message to the Congress.
Source: "The Talkative President: The Off-the-Record Press Conferences of Calvin Coolidge". eds. Howard H. Quint & Robert H. Ferrell. The University Massachusetts Press. 1964.
Calvin Coolidge, Excerpts of the President's News Conference Online by Gerhard Peters and John T. Woolley, The American Presidency Project https://www.presidency.ucsb.edu/node/349029