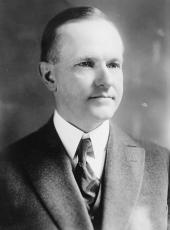 Excerpts of the President's News Conference
We have had some suggestion that the European governments would make some representation to this government relative to American participation in a body of experts to examine the question of German reparations, but so far as I know no representation has yet been made to us, so that I couldn't make any decision about it until the representation comes and we are able to find out what it involves. We should, of course, look at any suggestions made in a sympathetic way. At the same time this is almost purely a European question. In fact, it is a European question. And while I don't want to have this country shirk any duty that it ought to perform I should certainly like it if European questions could be adjusted by the Europeans. Now, it may be that they are not able to do that in this case and we ought to step in and participate. If we do that, I hope there will be a little realization in some quarters that this country doesn't interfere in other countries unless it is obliged to, and that if the Europeans can't settle their controversy without calling on us for help and we respond I do not think that in European quarters we ought to be criticized for making a like response when we are asked to assist in Central America. I shall want to be convinced too that if we are asked to have experts participate that there is going to be an opportunity for the exercise of the judgment of the experts, and that those who go there representing other governments or those who go from the United States will all go free to exercise their judgment and not be given instructions beforehand that would hamper them in exercising their judgment. I mean by that that one side ought not to instruct its experts we can't pay more than so much and the other side ought not to instruct its experts we can't take less than so much. If they be experts, it means they are going to undertake in their own judgment what can be paid and should be free to make a judgment of that kind without being hampered beforehand with instructions.
Source: "The Talkative President: The Off-the-Record Press Conferences of Calvin Coolidge". eds. Howard H. Quint & Robert H. Ferrell. The University Massachusetts Press. 1964.
Calvin Coolidge, Excerpts of the President's News Conference Online by Gerhard Peters and John T. Woolley, The American Presidency Project https://www.presidency.ucsb.edu/node/349284