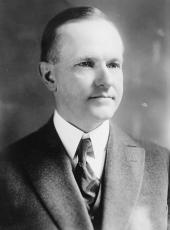 Excerpts of the President's News Conference
I am working on my Message to the Congress. I have made some progress on it. There isn't very much legislation, so far as I have been able to discover, that is exceedingly pressing that is new. We have some of the old problems that have been left over from the various messages that I have sent in before and such surveys of the country as I have received from reports of various departments indicate that the country is in very good shape. I want to get the Message done so that it can be early in the hands of the press and that leads me to make a suggestion that is bom of my past experience, that the advance copies that are given out are given out exclusively for the use of the press. But each year they turn up in the hands of the people that are in no wise connected with the press like legislative agents in Washington, brokerage offices in different cities, so that I think the news reporters or news agents to whom my message is to be given here for press release ought to warn people to whom they may send it that it is exclusively for newspaper use and not for general distribution before it is presented to the Congress. It is almost a slight on Congress to have a message generally distributed promiscuously around the country before it goes to the Congress itself. For the purpose of assisting the news distribution we make these early deliveries of the message. I hope this year it can be kept confined exclusively to news services and not fall into the hands of others.

* * * * * * *
I haven't seen any report of a suggestion that it is said here was made in the House of Lords yesterday proposing an English-American mutual arms limitation. It doesn't occur to me offhand that that would be feasible. Of course, our country would consider any suggestion that the responsible authorities of the British Government wanted to submit to us.
Source: "The Talkative President: The Off-the-Record Press Conferences of Calvin Coolidge". eds. Howard H. Quint & Robert H. Ferrell. The University Massachusetts Press. 1964.
Calvin Coolidge, Excerpts of the President's News Conference Online by Gerhard Peters and John T. Woolley, The American Presidency Project https://www.presidency.ucsb.edu/node/349278