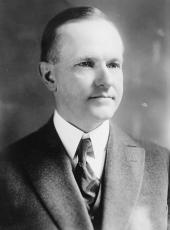 Excerpts of the President's News Conference
I don't know of any special Christmas pardons that are likely to come along. There may be some that are up for consideration in the Department of Justice. I am issuing pardons all the time, so that so far as pardons are concerned every day is Christmas over here.
I mentioned the other day that any reports about what I was going to do when I finished being President were made entirely without consultation with me. I forgot to mention one report that is going around. I mention it now because I don't want to be accused of acquiring property under false pretenses. I am having sent to me quite a number of jackknives. I don't recall that I ever made any suggestion that after I finished my term of office I was going to engage in the occupation of whittling, I did some when I was a boy. I haven't applied myself to that for a good many years. I hesitate to spoil anything like a good newspaper story, but, as I say, I don't want to keep getting jackknives under false pretenses.

* * * * * * *
President [Clarence Cook] Little of the University of Michigan came in yesterday—he is a member, I don't know but President, of what I understand is an association of Presidents of State Universities —to tell me of the interest that they have in the development of education and their desire to cooperate with the National Government along that line, and especially to be helpful in adopting the carrying out of a sound policy on the part of the United States Government in the expenditure of money that it appropriates for research and investigation and experimentation. We are making quite large appropriations of that kind which go to the agricultural colleges, I think almost exclusively. In many of the States those colleges are a part of the State University. In some of the States they are separate institutions. In Massachusetts, for instance, we have no university, because the field was very early covered by institutions that the state and local communities had contributed to in establishing, the first one being Harvard, and all our agricultural colleges are separate institutions.
PRESS: Was he the head of Massachusetts Agricultural College at one time?
PRESIDENT: NO. President [Kenyon L.] Butterfield of the Agricultural College in Massachusetts was the President. So I told him I knew about the situation from my experience in Massachusetts, in part, and that I would do what I could to cooperate with him and see that the money that was appropriated by the United States Government was put into places where it could be best expended, but that I thought there would be a great deal of hesitancy on the part of Congress to make a division of the money and have part of it go to universities that had a State Agricultural College under them and part of it go to State Universities that did not have an Agricultural College under them. I thought the Congress would probably be very loath to divert any money that was going directly to agricultural colleges into the use of many of the state universities, even though there might be quite a strong reason for it by reason of state universities being better equipped in some instances to carry on experimentations and investigations that it is proposed to carry on under the money that Congress appropriates.
Source: "The Talkative President: The Off-the-Record Press Conferences of Calvin Coolidge". eds. Howard H. Quint & Robert H. Ferrell. The University Massachusetts Press. 1964.
Calvin Coolidge, Excerpts of the President's News Conference Online by Gerhard Peters and John T. Woolley, The American Presidency Project https://www.presidency.ucsb.edu/node/349226