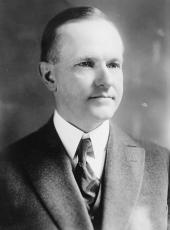 Excerpts of the President's News Conference
Here is a question that recalls to me what I forgot the other day. I constantly have it brought to my attention, and I see statements in the press from time to time, indicating that I have undertaken to be engaged in one kind of employment or another after the termination of my office as President of the United States, and I was going to say that there is no foundation for any suggestion of that kind. I shouldn't give it a thought myself, if it had not been brought to my attention through the press and otherwise. I am very glad to suggest to you, and you can suggest to the public if you wish to, that all reports of that kind are without any foundation and will be unless they are officially announced by me, which is likely to be a very considerable time in the future. It is a matter, quite naturally, that I haven't given any attention. I think some one asked me out at Rapid City. I said there that I usually had brought to me plenty of work to do and had no doubt that would continue. But while I remain in the office of President I do not expect to make any arrangement whatever for any future kind of employment. Here is a suggestion inquiring whether I might go to the Senate or the House in the future. I haven't any present intention of going back on that end of Pennsylvania Avenue. There are going to be vacancies in the city government in Northampton. I do not know why the City Council of that town should be neglected in the press comments and reports.
* * * * * * *
There has been so much already written about the flight of Colonel Lindbergh to Mexico City that it would require more invention than I have to add anything new or fresh to what has already been said. I suppose what the conference wants, though, is something that they can hang on the words of the President. It is quite evident that his flight there has had a very pleasing effect. It has evidently pleased the people of Mexico very much. The government of Mexico has accorded him a most painstakingly cordial reception, and the President of the Mexican Congress have done everything they could to honor him. I have no doubt that his going there will increase the friendly relations between the people of Mexico and the people of the United States. I have no doubt that the Central American Republics would be very much pleased to have Colonel Lindbergh fly down there. I have no information whether he contemplates anything of that kind. I think I have seen it referred to in the press, but that is the only information I have about it. There is a further interest connected with that, which I referred to in my Message to the Congress, my desire to establish as soon as can be an air service between this country and the countries south of the Rio Grande. I think that Colonel Lindbergh's visit to some of those places would increase the already great interest in having something of that nature done.
Mr. Stimson, recently appointed Governor General of the Philippines, came in this morning. He is conferring with the Insular Bureau of the War Department and the Secretary of War. He is going to meet with the Committees of the House and the Senate that have especial charge of legislation dealing with Philippine questions and he expects to start for the Philippines in the very near future. As I understood it, he had no new or changed or particular policies to announce. He will go out there to undertake to execute the Organic Law of the Islands and cooperate with the Philippine officers in doing what he can to provide a good government.
Source: "The Talkative President: The Off-the-Record Press Conferences of Calvin Coolidge". eds. Howard H. Quint & Robert H. Ferrell. The University Massachusetts Press. 1964.
Calvin Coolidge, Excerpts of the President's News Conference Online by Gerhard Peters and John T. Woolley, The American Presidency Project https://www.presidency.ucsb.edu/node/349225