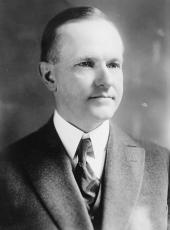 Excerpts of the President's News Conference
I didn't notice whether the Soviet proposal for the abandonment of all armaments was to apply to all the world or whether it was a European proposal. We do not maintain much of anything in the way of an army in active service. It is reduced to the proportions of a police force. I am speaking now of what we would call the Regular Army. Of course, when it is supplemented by the National Guard and other forces that could be called out it is a considerable force. So I suppose that if that proposal was to apply to all the world, so far as it would affect us would be the Navy. I do not imagine it would be for the welfare of the world entirely to abandon navies.
* * * * * * *
Colonel Judah was in to call on me this morning. He is starting for Cuba, I think next week, returning to Chicago this afternoon to finish up some private matters there. He is going to Cuba at once to make such preparation as our representative there may find necessary as a preliminary to the Pan American Conference, which is to be held about the middle of January.
PRESS: Will you permit a question as to whether or not you will go to Havana.
PRESIDENT: I am expecting to go. There is never anything terribly certain about the President's movements. I have indicated several times it was my expectation to go. My plan is to go down to Key West and cross over on one of the Navy boats. The Secretary of State will go with me, and if I am going on the Navy boat possibly the Secretary of the Navy. Some of the members of the Commission, or representatives at the Pan American Conference, will probably also go at the same time. Some of them may perhaps precede us to do whatever is necessary in the way of preliminary work. I don't know that any of them will find that necessary. Mr. Morrow, who is one of the delegates, is in Mexico City, so he would not join us here, but would join us at Havana.
PRESS: Have you any idea how long you would stay?
PRESIDENT: Oh, I would make a very short stay. Perhaps arrive in the afternoon and address the conference the next day, and start back that afternoon or the day following. That is necessary because of my official duties here and in order that I may keep the social schedule that has been laid out for the winter at the White House.
Source: "The Talkative President: The Off-the-Record Press Conferences of Calvin Coolidge". eds. Howard H. Quint & Robert H. Ferrell. The University Massachusetts Press. 1964.
Calvin Coolidge, Excerpts of the President's News Conference Online by Gerhard Peters and John T. Woolley, The American Presidency Project https://www.presidency.ucsb.edu/node/349222