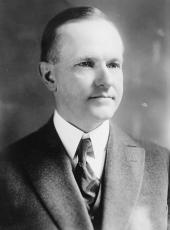 Excerpts of the President's News Conference
An inquiry also about the immigration law. I have no doubt that the incoming Congress will extend the law, which expires on June 30th next. Just what provisions will be adopted, of course, I can't tell. It is perfectly apparent I think, however, that we shall have very careful restriction of immigration.

* * * * * * *
A statement that there is emanating from Paris today a report to the effect that Premier Poincare will insist upon reparations from Germany to the full capacity of Germany to pay, and wanting to know if I have any sort of statement to make relative to the American position. No, our position is stated fully in the note. If it meant our position relative to the restrictions, and more especially that restriction which provides that the experts be limited to an inquiry into the present capacity — actual I think is the word that is used by the French in that connection — I think that I am safe in saying that if it is to be limited to merely present capacity of Germany to pay, that that would be such a limitation as would make an inquiry useless and futile. There wouldn't be any use for calling together the experts of four or five nations of the earth. That would be something almost that could be done by any ordinary auditor. A limitation of that kind would seem to make the inquiry useless, and I don't see any reason why we could expect to be of any help by participating in it.
PRESS: There is a report that the French propose the inquiry to take in the capacity of Germany to pay for six years—up to 1930. Have you heard of that, Mr. President?
PRESIDENT: Yes, I had heard of such a report, and up to 1930 would include what I have had to say. It would be such a short time that I don't see any reason to expect that in that short time Germany could re-establish its industrial organization and its production to such an extent that payments could be made which would amount to very much. They could hardly begin, in so short a time, to meet the reparations.
Source: "The Talkative President: The Off-the-Record Press Conferences of Calvin Coolidge". eds. Howard H. Quint & Robert H. Ferrell. The University Massachusetts Press. 1964.
Calvin Coolidge, Excerpts of the President's News Conference Online by Gerhard Peters and John T. Woolley, The American Presidency Project https://www.presidency.ucsb.edu/node/349013