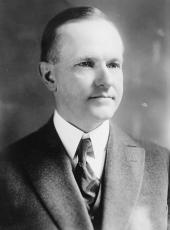 Excerpts of the President's News Conference
I want to congratulate the members of the conference that were able to be with me in the Black Hills and commiserate the rest of you that were not able to be with us. We had a most enjoyable season out there—very pleasant to me—and there was such a diversity of happenings that I think the newspapermen found sufficient material nearly every day on which to make a story. I heard very little complaint about that. I haven't seen the official figures of the amount of space that was sent out from the Black Hills. I think a computation was made of the space that went out from White Pine Camp. Of course, I stayed in the Black Hills considerably longer, but I judge the amount of material was certainly as much as that of a year ago.
PRESS: I understand it was 2,150,000 this year and about 600,000 more than last year.
PRESIDENT: Well, I stayed away a much longer time. Last year I went away on July sixth and came back about the same time as this year. This year I went away three weeks earlier.
* * * * * * *
The changes that have been made in the White House are very slight in that part that is occupied by my family and myself—practically no changes until the third floor is reached. A new roof was put on, as you know, and the third floor was made over. Of course, it is in very much better shape. It is more convenient and modern than it was before those changes were made. It leaves the White House now in first-class condition—practically fireproof from top to bottom, and leaves it of course entirely safe.
* * * * * * *
I haven't any information about the action of the Federal Reserve Board in lowering the re-discount rate in Chicago. I think I have indicated to the conference a great many times that that is a board that does function and ought to function entirely apart from the Executive, acting almost entirely in the nature of a judicial position. I have sometimes made some comment on what they have done and the beneficial effect that I thought had accrued from it, but I do not recall that I have ever made any suggestion to the Board as to any action that it ought to take. I think the question involved here is one of the interpretation of the statute under which they are acting. A good many times if members of the press want to comment on a matter of that kind it would be very helpful to them if they would get the statute and read it. I find in making my decisions it is often very much simplified if I find out what the law requires and then go ahead and do it. It answers a great many questions that might otherwise arise. A great many times a question seems to be very complicated and almost insoluble. If I take that course I find it is a very simple matter.
I don't recall any communications from representatives of the chemical industry favoring legislation to revise the Sherman Anti-Trust Law. It is very possible, though, that such communications have been addressed to me. Do you recall any such communications of recent date?
MR. CLARK: Nothing of recent date.
PRESIDENT: Mr. Clark says he doesn't recall any. I think it is more likely that some effort in that direction might be made by the producers of petroleum than by the chemical industry, on the ground, I assume, that it is a very limited natural product and that there ought to be an opportunity for the producers of it to make some kind of an arrangement for its conservation, which I think they claim they can not do now without running counter to the provisions of the antitrust law. It is desirable, of course, to conserve our petroleum. I should want to make a very careful exploration of every other avenue, before resorting to any change in the anti-trust law. We might give them a different status from that held by other industries.
Source: "The Talkative President: The Off-the-Record Press Conferences of Calvin Coolidge". eds. Howard H. Quint & Robert H. Ferrell. The University Massachusetts Press. 1964.
Calvin Coolidge, Excerpts of the President's News Conference Online by Gerhard Peters and John T. Woolley, The American Presidency Project https://www.presidency.ucsb.edu/node/349207