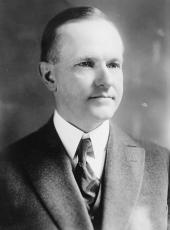 Excerpts of the President's News Conference
I don't know as there is any comment I can make on the resolution that some representatives of Porto Rico brought in yesterday relative to their desire to have Governor [Horace M.] Towner continue in office. Of course, I was pleased to receive the information that he was giving general satisfaction to the local government of the Island. I don't just know why the delegation should be sent up here for the purpose set out in their resolution, but considering the fact that some of our officeholders are not averse to visiting Porto Rico on occasion perhaps it is not difficult to imagine that officeholders in Porto Rico would not be averse to coming up here. It is very much more pleasant to have them come telling me that they are contented with the situation as it exists, than it is to have them come making complaints about their government. Perhaps their visit may be taken as an indication of a very happy condition on the island, indicating satisfaction on their part with the general way that their government is proceeding. I suggested to them that it is always necessary to use care in the raising and expending of the revenue of the government. The resources of the Island are limited, of course. They have been embarking on a considerable policy of public improvements, the building of a rather ambitious capitol or state house, the construction of a system of highways, increasing their educational facilities, all of which calls for a considerable outlay of money. I suggested to them also the great desirability of a general knowledge on the Island of the English language. They are under an English speaking government and are a part of the territory of an English speaking nation. I thought that it would be very much easier for them to understand us, and for us to understand them, if they had a good working knowledge of the English language. While I appreciated the desirability of maintaining their grasp on the Spanish language, the beauty of that language and the richness of its literature, that as a practical matter for them it was quite necessary to have a good comprehension of English.
Source: "The Talkative President: The Off-the-Record Press Conferences of Calvin Coolidge". eds. Howard H. Quint & Robert H. Ferrell. The University Massachusetts Press. 1964.
Calvin Coolidge, Excerpts of the President's News Conference Online by Gerhard Peters and John T. Woolley, The American Presidency Project https://www.presidency.ucsb.edu/node/349189