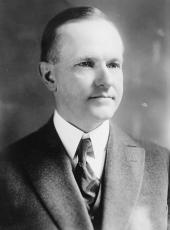 Excerpts of the President's News Conference
I have had called to my attention lately the fact that some of the press are beginning to get a little careless about quoting the President as the result of these conferences. It seems that it is necessary to have eternal vigilance to keep that from being done, and to caution the members of the conference against that. Of course, it is a violation of the understanding to say that the spokesman said so and so, and put in quotations on that. I think, by the way, that it would be a good plan to drop that reference to these conferences. It was never authorized in any way that I could determine by the President. It has been used from time to time, but it has been used so long and there has been so much reference to it that one might as well say that the President said so and so, or the White House spokesman or the official spokesman said so and so.
PRESS: Mr. President, do we understand that the term spokesman is not permissible?
PRESIDENT: It has never been authorized and has been used in a way that it is perfectly apparent that when the word is used it means the President. Now, that need not have been done, but it has been done, and having been done I think it would be better to drop that. . . . What I said about quoting the President in relation to the use of the term as spokesman wasn't said for publication. It was just said for the information of the conference. That part of the conference we will consider carried on in executive session.
PRESS: Have you any formula to suggest?
PRESIDENT: I think your ingenuity will provide you with one. The only thing I am suggesting is that you observe the rule of not quoting the President.
Source: "The Talkative President: The Off-the-Record Press Conferences of Calvin Coolidge". eds. Howard H. Quint & Robert H. Ferrell. The University Massachusetts Press. 1964.
Calvin Coolidge, Excerpts of the President's News Conference Online by Gerhard Peters and John T. Woolley, The American Presidency Project https://www.presidency.ucsb.edu/node/349185