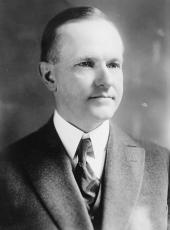 Excerpts of the President's News Conference
There isn't any division of the Cabinet over the policy that is being pursued in China. I don't think that would be possible in my Cabinet. The way I transact the Cabinet business is to leave to the head of each Department the conduct of his own business. While, of course, matters are taken up in the Cabinet and everybody is asked to give their opinion, yet I have never considered that it was for one member of the Cabinet to have any very great weight in trying to indicate to another member of the Cabinet how the latter member should conduct the affairs of his own Department. What I am telling you is a general principle. It hasn't any application at all to this matter in hand, because there isn't any division in the Cabinet. All members of the Cabinet have agreed that what the Secretary of State is doing ought to be done. Of course, it is done under the general direction of the President and with his approval. I noticed in a headline recently the statement that Mr. Hoover disapproved of what the Secretary was doing, thinking that identic notes ought not to be resorted to. It is my recollection that Mr. Hoover was the warmest advocate in the Cabinet of identic notes, pointing out what is evidently the condition, that if each of the countries concerned—and it was the common concern of all—went ahead on its own initiative it would fail very much in the influence it would have if they all adopted their identic policy, which is of course the policy.
There is another matter of general concern, and that is this—that when our relations with a foreign country are in the condition that our relations with some of the Chinese are in at the present time, it is in danger of being quite harmful if the press resorts to speculation about the attitude of this Government. It probably would be very comforting to any opposition that this Government might have in China, and I don't think there is very much there, but what opposi-tion there is there would be comforted if they were told that the officials of this Government were in violent disagreement about what ought to be done. So that while I know that the press oftentimes has to speculate some and draw deductions of positions when our foreign relations are concerned, over a matter that is somewhat delicate there is grave danger that anything of that kind may do considerable harm and ought to be resorted to only on occasions when the press is pretty certain that it is going to be right. In this case it has no foundation whatever.
While I am on that, I might state again that Mr. Kellogg isn't going to resign. If he does resign, Mr. Hoover will not be appointed Secretary of State.
Source: "The Talkative President: The Off-the-Record Press Conferences of Calvin Coolidge". eds. Howard H. Quint & Robert H. Ferrell. The University Massachusetts Press. 1964.
Calvin Coolidge, Excerpts of the President's News Conference Online by Gerhard Peters and John T. Woolley, The American Presidency Project https://www.presidency.ucsb.edu/node/349183