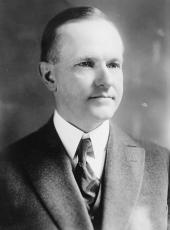 Excerpts of the President's News Conference
I don't know whether I shall be able to go to the dedication of, I think this is Wicker Park, near Hammond, Indiana. A very large delegation came down this morning in a special train to invite me, so large that I suggested to them that I might make them a speech here and save myself the trouble of going out there, but they seemed to want to make speeches themselves down here, which they did, leaving me to make a proper response at some future occasion.
* * * * * * *
I haven't given any particular attention to the details of the treaty that has been proposed by President Diaz of Nicaragua. Of course this country would consider carefully any suggestion that the government of Nicaragua desired to make to us, but from such casual consideration of it as I have been able to give to the reported outline I doubt very much if the Government of this country would think it desirable to enter into such a treaty. As I have expressed to the conference heretofore, we have some peculiar interests in Nicaragua, on account of our right to build a canal there and establish a naval station, and in addition to that we have a desire to help that country or any other Central American countries in any way that we can, but of course it has been my policy and I want to carry it out as far as I can to leave those coun-tries as undisturbed as possible to work out their own salvation. That was the reason why I withdrew the Marines from Nicaragua in 1925. We are willing to respond so far as we can any time that we can be helpful, but to take on a permanent obligation of the nature that I understand is contemplated in the suggestion of President Diaz would be, I think, a little farther than this Government would wish to go.
Source: "The Talkative President: The Off-the-Record Press Conferences of Calvin Coolidge". eds. Howard H. Quint & Robert H. Ferrell. The University Massachusetts Press. 1964.
Calvin Coolidge, Excerpts of the President's News Conference Online by Gerhard Peters and John T. Woolley, The American Presidency Project https://www.presidency.ucsb.edu/node/349181