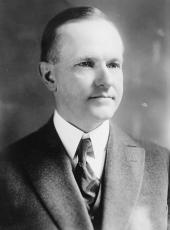 Excerpts of the President's News Conference
I think the press already has all the information that has come to me relative to the situation in China. That country is undergoing a revolution and is split up into different sections, each of them contending against each other and each of them pretty much entirely denying the authority of the central government, so that at the present time there are so many factions that it is difficult to know whether the central government is in possession of much of any authority. What we are trying to do there, of course, is to afford such protection as we can for the lives and property of our citizens in accordance with our treaty rights and faithfully execute the treaties that have been made between the Chinese Government and ourselves. Because of the very grave danger of disorder I understand that Mr. MacMurray has been ordered back to Peking, or has remained there, I haven't had any report from Mr. Kellogg about that within 24 hours I should say. I have talked with him about dispatches that came from MacMurray. I don't think he indicated in any of them that MacMurray had started for home. But perhaps he had. We arranged some time ago that he might come home partly for the purpose of rest and recuperation and partly that we might have a chance to confer with him personally about all the different angles of the situation.
Source: "The Talkative President: The Off-the-Record Press Conferences of Calvin Coolidge". eds. Howard H. Quint & Robert H. Ferrell. The University Massachusetts Press. 1964.
Calvin Coolidge, Excerpts of the President's News Conference Online by Gerhard Peters and John T. Woolley, The American Presidency Project https://www.presidency.ucsb.edu/node/349178