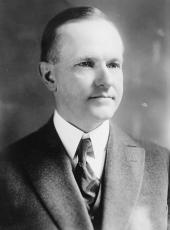 Excerpts of the President's News Conference
I want to express my gratitude to those of you who went up to Plymouth with me. It was a real satisfaction to have present those of you who had been so intimately associated with me here, and it was a real help to me in bearing the burdens that I had to bear there. I want especially to thank you for the many tributes that were paid on that occasion to my father. I am sure that he was worthy of all of them. It was a great satisfaction to see the appreciation in which he had come to be held by those of you that knew him and knew me, and especially the appreciation that was expressed in the many messages of con-dolence that came to me.
* * * * * * *
I have only seen a report in the press to the effect that there might be an invitation from the League of Nations that we should send some representative to discuss with them the matter of the reservations that were put on by the Senate in its ratification of the protocol of the Court. I don't think any such invitation has come. If it does come, why of course it will be taken and considered then. I haven't come to any final conclusion about it. The method that the State Department is adopting to deal with our entrance into the Court is that of sending a copy of the vote of the Senate to each interested nation and requesting them to send to the Department the note that is specified in the reser-vations signifying their consent to our adherence on the conditions that are expressed in the reservations. I think I saw in the morning press that one nation, Cuba, had already sent in its note, and I presume that that would signify that other nations would be rapidly sending in their consent. I don't know what would be in the mind of the League, but as the reservations undertake to emphasize especially the independence of the Court from the League, and perhaps strengthen it, I assume that perhaps the League thought that it was a matter that might interest them in some way and there has been a discussion as to whether they would hold a conference to consider it and have someone present representing this country to explain the reservations. So far as I can see at the present time, that would hardly be necessary. The reservations seem to speak for themselves and I think are quite plain. In general, they do emphasize, of course, the independence of the Court from the League.
Source: "The Talkative President: The Off-the-Record Press Conferences of Calvin Coolidge". eds. Howard H. Quint & Robert H. Ferrell. The University Massachusetts Press. 1964.
Calvin Coolidge, Excerpts of the President's News Conference Online by Gerhard Peters and John T. Woolley, The American Presidency Project https://www.presidency.ucsb.edu/node/349145