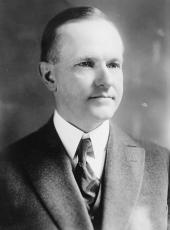 Excerpts of the President's News Conference
. . . there is of course the report of the Aircraft Board. I am anxious to have legislation that carries that out. I am almost equally desirous of not having legislation that goes beyond the report and recommendations of that Board. I feel quite confident that when the various committees come to study the subject they will come to the same conclusion that the Air Board reached. You will remember that there was a great deal of confusion about our Air Service last summer. That was my state of mind. I presume that if you will hark back to it you will find it was your own state of mind. It was very well cleared up, I thought, by the report of the Air Board. The central thought of that was that our country was not in immediate jeopardy by reason of any lack of our Air Service or of any attack that could be made on us by any other country. Now, I want to have a good Air Service here, the same as I want to have a good Army and Navy, but I don't want to run to extremes about it. There is some pressure in the country, per-haps from people that haven't made a careful study of the subject and a careful perusal of the report of the Air Board, to build a very large air fleet. I don't think that is necessary. I am opposed to it because it would be an unnecessary expenditure of money and because the theory of it would be to go back to the theory of competitive defense. Of course if we arm ourselves with a great air fleet, the necessary reaction will be that other countries think they must do the same and then we are off again competing in armaments. There has been one development in relation to this which I think has been helpful, and that was to bring to the attention of men in the service that it is especially their business to be Army and Naval and military men and function in that direction, and not undertake to function in other directions. In our service there is the Army and Navy, the Reserve Officers Corps, the National Guard, altogether making I think about 550,000 men. Now it is quite obvious that if everybody in that service should start out to bring to bear great pressure on Congress for everything that they might think they wanted at any time, the result wouldn't be good, and if as the result of our actions we should make a great Air Force there is a good deal of question as to whether after we did create it the same forces wouldn't be demanding that it be used in some direction or other, and we would have established here almost before we knew it a great military nation, which nobody that I think gives the subject careful consideration would want to have done. So we have had to bring it rather sharply to the attention of men in the service that they ought to obey that injunction of the service rules which requires that they shouldn't volunteer to influence legislation—give their opinions when they are asked of course; but to form any organization of a military nature for the purpose of influencing Congress would in the end be productive of embarrassing results.
Source: "The Talkative President: The Off-the-Record Press Conferences of Calvin Coolidge". eds. Howard H. Quint & Robert H. Ferrell. The University Massachusetts Press. 1964.
Calvin Coolidge, Excerpts of the President's News Conference Online by Gerhard Peters and John T. Woolley, The American Presidency Project https://www.presidency.ucsb.edu/node/349140