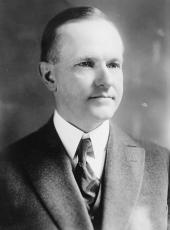 Excerpts of the President's News Conference
I talked with Professor Ripley yesterday about the article that he had in the Atlantic Monthly (I think that was the magazine in which he published the article). I wanted to confer with him especially to see if he thought there was any abuse that ought to be remedied by Federal legislation. He didn't think that there was anything that Federal legislation could do in relation to the subjects that he discussed in the magazine. All of this is being done under the authority of state corporation laws. It isn't interstate commerce, and there is difficulty for that reason in reaching it by Federal legislation.
PRESS: What was the nature of the abuses?
PRESIDENT: That article you ought to read, if you haven't read it. It is a very interesting article in relation to the practice that is growing up of retaining control of large corporations in the hands of a very small amount of voting stock and then issuing to the public large amounts of nonvoting stock. He said that there were certain phases of that that might be considered sound and helpful but that it could be used for improper purposes.
Source: "The Talkative President: The Off-the-Record Press Conferences of Calvin Coolidge". eds. Howard H. Quint & Robert H. Ferrell. The University Massachusetts Press. 1964.
Calvin Coolidge, Excerpts of the President's News Conference Online by Gerhard Peters and John T. Woolley, The American Presidency Project https://www.presidency.ucsb.edu/node/349138