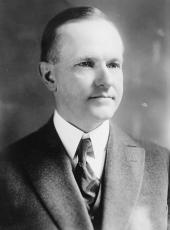 Excerpts of the President's News Conference
It is rather difficult to comment on the feasibility of Federal arbitration boards in the major industries. The very first thing that we have to consider about arbitration is whether the parties agree to adopt it. If they don't agree to adopt it, of course it breaks down at the start. Where they do agree, it seems to me it is a feasible method. That is practically the method that has been agreed to between the employees and the managers of the railroads and I think holds out very great promise of success. But there it is not the first method that is used; it is the ultimate method. The first method which I think is correct, is negotiation between the parties, to see whether they can agree on the terms and conditions of service. Where in those activities which are necessary for the public welfare negotiation breaks down, then I think voluntary arbitration is the next method that ought to be applied. I am not in favor of compulsory arbitration.
* * * * * * *
I haven't had any specific complaint about the administration of affairs in Porto Rico. I get those occasional complaints that always come from a situation like that which exists between the Government here and Porto Rico and the Government here and the Philippines. Complaint that arises partly by reason of the method of government, the local legislature elected by the people and the Governor that is appointed by the people. That is what makes a situation that needs to be handled with great tact in order to be successful. If anyone doubts that, I think they would be convinced if they would examine the outlying provinces of other countries and compare the difference in conditions—those that are under the American Government and those that are under the government of other countries. I don't say that in any way of criticism. Other governments I know are doing very well and the best they can, but I say it rather in praise of our own system and the results that it has been able to secure.
Source: "The Talkative President: The Off-the-Record Press Conferences of Calvin Coolidge". eds. Howard H. Quint & Robert H. Ferrell. The University Massachusetts Press. 1964.
Calvin Coolidge, Excerpts of the President's News Conference Online by Gerhard Peters and John T. Woolley, The American Presidency Project https://www.presidency.ucsb.edu/node/349137