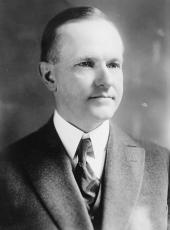 Excerpts of the President's News Conference
I have two or three inquiries here about the return of the alien property. I do not think any full plan has been matured about that, but there is a hypothesis on which the Treasury Department and the interested parties are working to see if it can be put into effect and to ascertain whether it would be satisfactory to the parties interested. Of course this is all a part of our general creditor position. I think the amount that is due to us from Germany is about the same as the amount that is due to us from Belgium, and very likely it might be proper to consider the fact that Germany is a debtor to us and is also a debtor to substantially all of our debtors, so that anything that we might release would in a way be so much more that would go to those that are to pay us money and those that have already made an agreement with us and those that we expect will make an agreement in the future. So it might be, so far as we are concerned, about as broad as it is long. What we secured from Germany wouldn't go to others and if we released anything it would go to others and they would be the better able to pay us.
Here is another inquiry about loans to finance foreign government monopolies, such as rubber, coffee, etc. Now, you always want to keep in mind that every application made for a loan is decided on its own merits. It is impossible to lay down any general rule that would be applicable to all cases and which would fit all circumstances. It has been the policy of the administration to refuse to approve loans that were contemplated being made to foreign governments for the purpose of supporting a trade monopoly. Now it may be that some application might be made for a loan of that kind that would appear not to be inappropriate for our banking concerns to make. We haven't had any such applications up to the present time and as near as I have come to laying down a general rule, borne out by past experience, it is that so far as we know the Government does not look with favor on loans made for the purpose of supporting government monopolies maintained in foreign countries on materials that enter into the general consumption of our own people.
Source: "The Talkative President: The Off-the-Record Press Conferences of Calvin Coolidge". eds. Howard H. Quint & Robert H. Ferrell. The University Massachusetts Press. 1964.
Calvin Coolidge, Excerpts of the President's News Conference Online by Gerhard Peters and John T. Woolley, The American Presidency Project https://www.presidency.ucsb.edu/node/349128