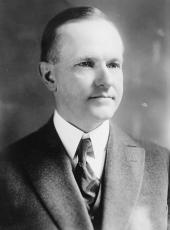 Excerpts of the President's News Conference
PRESIDENT [addressing a reporter]: Are you taking down in shorthand what I say?
PRESS: Yes, sir.
PRESIDENT: NOW I don't think that is right. I don't think that is the proper thing to do. Who do you represent?
PRESS: David Lawrence.
PRESIDENT: Well, I wish you would tell Mr. Lawrence that I don't think it is the right thing to do. I will see to that myself. ... I don't object to you taking notes as to what I say, but I don't quite throw my communications to the conference into anything like finished style or anything that perhaps would naturally be associated with a Presidential utterance. It would interfere with me very much if I understood that it is to be taken down in shorthand here and then used outside for such purposes as anyone might want to use them. What I say here is not to be taken down in shorthand other than that which is taken down by my stenographer for my purposes. Otherwise it greatly interferes with my freedom of expression and my trying to disclose to the conference the things that I have in mind, which quite naturally, if they were to be used verbatim, I would want to give considerable thought to and perhaps throw into a little different form of language.
I don't know as I can say very much about my vacation. I expect to spend a considerable part of it trying to amuse the newspapermen. [Stenographer's note: laughter.] There is a friend of mine who lives in Lynn that is a large newspaper distributor, Ralph Bauer, who is going to have some kind of an Essex County Newspapermen's gathering at his place in Amesbury, that I shall take the liberty of suggesting being increased by inviting all the out of town newspaper correspondents that happen to be attending on the President. I think you would like to go up there. He has a farm and it is a very interesting place, not very far from the residence of Whittier, if you would like to look at his old home where he wrote Snowbound. You better get a copy of Whittier and read Snowbound before you go there. It is a fine piece of work and it is the piece that brought Whittier into prominent notice. You will see there the old home in which he was living the time that the theme of Snowbound took place.
Source: "The Talkative President: The Off-the-Record Press Conferences of Calvin Coolidge". eds. Howard H. Quint & Robert H. Ferrell. The University Massachusetts Press. 1964.
Calvin Coolidge, Excerpts of the President's News Conference Online by Gerhard Peters and John T. Woolley, The American Presidency Project https://www.presidency.ucsb.edu/node/349112