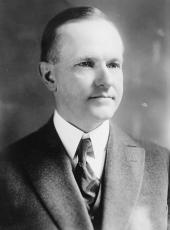 Excerpts of the President's News Conference
I don't know just why the Department has refused to issue passports to women in their maiden name, but I suppose because it has been the universal rule of the Department.
PRESS: Mr. President, Mr. Kellogg says it is up to the President. The regulations provide that the President can change it if he wishes to.
PRESIDENT: Well, it hasn't been brought to my attention officially. If it is, I will examine it with the State Department. I am sure the desire is to accommodate the person, keeping in mind that it should be such a document as will enable those who are to be visaed by notice of the passport that this is the person described in the passport. I don't know whether I ought to consult with the husbands of the married women about the rule or not.
* * * * * * *
Now that Congress isn't in session I am rather aware of the paucity of news, though of course there are a lot of small things that are always developing in relation to our Government, and many times they have larger import and interest. I want to be helpful in any way Lean to guide the press in their efforts for news items. My own thought about the situation at the present time is that I would like it if the country could think as little as possible about the Government and give their time and attention more undividedly about the conduct of the private business of our country. If that is a thought that you can develop in any way, I think it would be helpful. There are going to be a few months here when the Congress won't be in session, and when, so far as I can tell, there won't be any very large governmental matters projected by the Executive, and it is with that in view that the country may be relieved from having to look to Washington every day or two to see what is going to be done and given an opportunity to feel that things are as settled as they can be and the uncertainties removed as much as they can be, and that there is a foundation on which they can make commitments for the carrying on of their business without being in jeopardy of change of law or something of that kind that might change conditions in such a way that their investments would become uncertain.
* * * * * * *
Here is an inquiry about Ambassador Sheffield and the situation in Mexico. I had a letter from the Ambassador last week I should say, saying that—no, I don't know that it would do any harm to give this out, I suppose it is public—that Yale University was going to confer a degree on him. I think there is no impropriety in announcing that. It has been decided. He is going to be present to take it. And of course he wants to come up to have that degree conferred on him. And that when he was up here of course he would like to come to Washington and talk with the State Department and myself. I didn't get from his letter that there were any unfavorable developments in the Mexican situation, but rather that conditions were very promising there. There are always problems in Mexico, but I judge from the tone of his letter that he thought things were working along exceedingly well, as far as American interests are concerned.
Source: "The Talkative President: The Off-the-Record Press Conferences of Calvin Coolidge". eds. Howard H. Quint & Robert H. Ferrell. The University Massachusetts Press. 1964.
Calvin Coolidge, Excerpts of the President's News Conference Online by Gerhard Peters and John T. Woolley, The American Presidency Project https://www.presidency.ucsb.edu/node/349106