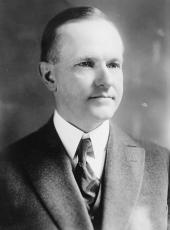 Excerpts of the President's News Conference
I have an inquiry here on the subject of education relative to the statement that I made of approval of National Education Day, and whether I think more manual and industrial and outdoor training should be in order for all. I don't think you can make any hard and fast rule about that. It depends upon the locality and on the individual. I recall that when I was in college, one of the professors was discussing that problem before us and speaking of the need generally of athletics in education at the present time. But he said that he knew a man that had been President of the Massachusetts State College, I think his name was Goodnough, walked from Templeton to Andover, a distance of sixty miles, and carried his trunk on his back. He said that when he got there he didn't have any feeling for a course in football.
* * * * * * *
An inquiry about the cancellation of debts, stating that the new President of the American Bankers Association says that he is going to start an immediate campaign for cancellation, and wanting me to state my views on the question. I gave you the views that I held at one of our very early conferences, which was opposed to the cancellation of debts. That doesn't mean that it isn't open to negotiation as to terms and conditions and so on. We made very liberal terms with Great Britain in the matter of interest, and all that which, if figured up, I presume would show, as a matter of arithmetical determination, that we would be more than cancelling the original debt, considering the reduction that we made in interest. Something of that kind, perhaps, would be considered. Some of the countries are not paying us any interest at the present time. But the matter, of course, is in the hands of the Commission that was appointed, as the result of an act of Congress, with power to negotiate, and the terms are laid down in that Act, and those are the terms on which the American Government stands until they are modified.
PRESS: Any indications, Mr. President, that any other powers are ready to negotiate now?
PRESIDENT: Not that I know of.
Source: "The Talkative President: The Off-the-Record Press Conferences of Calvin Coolidge". eds. Howard H. Quint & Robert H. Ferrell. The University Massachusetts Press. 1964.
Calvin Coolidge, Excerpts of the President's News Conference Online by Gerhard Peters and John T. Woolley, The American Presidency Project https://www.presidency.ucsb.edu/node/349004