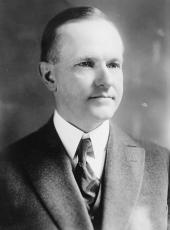 Excerpts of the President's News Conference
PRESS: Mr. President, while we are on the subject of inauguration would you mind telling us whether in the matter of the ceremonies there will be any relaxation by you?
PRESIDENT: I don't know just what you mean by relaxation. I want all the newspapermen to come. If any of you want to parade I will be glad to have you. Do you want any more relaxation?
PRESS: Mr. President, I think the inaugural committee of Washington does in the sense that it wishes the parade to be somewhat more elaborate and more informal.
PRESIDENT: I think it will work out rather satisfactorily. I appreciate the compliment of people that want to come and join in a parade, but unless we set a limit to it somewhere there is almost no place to stop; it creates confusion and always more or less disappointment; and I would rather have the disappointment in relation to a short parade than to have it in other directions. I want the public to participate insofar as they can, in the inaugural. Now, as they did four years ago, they have the advantage of amplifiers, so that many thousands can hear the delivery of the message, which naturally I think is quite important, that couldn't in years gone by hear at all. That will be helpful. Some of the men in the Congress tell me that the inaugural four years ago was, on the whole, the most satisfactory that they have had. They didn't have any parade at all, but I thought it would be appropriate to have a parade, particularly of the Army and Navy and such Governors as want to come and participate in it, bringing with them their party, which I thought would be very well limited to 100—50 I thought at first, but the committee thought 100, so it has been put at 100. That will give the people who will assemble along the line a chance to look at the Governors of the various states and those that may come with them.
* * * * * * *
No, I don't think the views of Mr. Hearst and Mr. Sykes, of Iowa, who came in this morning relative to the appointment of a new Secretary of Agriculture, caused any delay, because I found they were in practical harmony with my own views. I am trying to get a man who especially represents agriculture and who is sympathetic with the cooperative movement. I think it's the organization of Mr. (I don't know now which one it was, who is President of some producer's cooperative association) that handles a good deal of livestock—yes, Mr. Sykes. He showed that for the week ending February 6 their shipments of livestock totaled 444 cars. The highest that any other had was 255. Now that shows the development of a cooperative movement. I think that is a very promising field of development for the benefit of agriculture and any Secretary of Agriculture that I have I should expect to be sympathetic with that policy. Certainly he will be if he carries out my desires relative to the administration of the Department.
* * * * * * *
I don't know that I have any mature views about the proposal to create a unified and independent Air Service. I haven't been inclined to favor it. One of the reasons is that they are putting through a reorganization bill, or are going to, and one of the first proposals there was that we should have an entirely unified Army and Navy, to put that all under one term, "National Defense" or something of that kind, with sub heads of those who are to look after the Army and those who are to look after the Navy. This runs counter to the general policy. I think the general policy of Government administration at the present time is unification, rather than the establishment of new and independent services. Then the Air Service is a new arm of the service and has not yet been developed. We don't know what its value is. It is evidently a service that holds great promise, and I consider it as a very important adjunct of our national defense. I want to see it developed to the fullest extent. That can be done by discussion, exchange of views, and experimentation. I have noticed several suggestions that we have spent some $400,000,000 on the air service and don't seem to have secured any very great results. I think one of the reasons is in the word I have just used. It is still in its experimental stage. If you have had any experience at all with government experimentation you know it requires a good deal of money to carry on. My first experience came when I was in the legislature, I think I was in the Senate and was Chairman of the Committee on Agriculture. The experimental station at the Agricultural College pursued a great many experiments that didn't turn out to be of any great value, other than to demonstrate that results could not be secured by that line of procedure. Now, it is the same in our Air Service. We have to make experiments with planes of different makes, patterns, engines, and everything of that kind, and oftentimes the experiment only demonstrates that if you want to secure a result you have to proceed in another direction. That costs money. So I don't think it is a real criticism that although we have spent a great deal of money we have not accomplished altogether results on the practical side.
Source: "The Talkative President: The Off-the-Record Press Conferences of Calvin Coolidge". eds. Howard H. Quint & Robert H. Ferrell. The University Massachusetts Press. 1964.
Calvin Coolidge, Excerpts of the President's News Conference Online by Gerhard Peters and John T. Woolley, The American Presidency Project https://www.presidency.ucsb.edu/node/349094