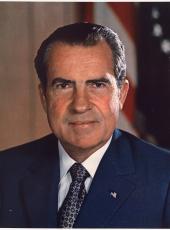 Excerpts of Remarks of the Vice President of the United States, Rally at Erie, PA
The sorry lack of concern for the American people too often revealed by my opponent and his followers can be no better documented than by the record on distressed areas legislation.
Five years in a row the President has recommended Federal help for those areas in our country affected with chronic unemployment.
But my opponent and his party have preferred to make a political football out of a pressing human problem. Five times they have ignored the President's recommendations and, instead, they have passed two pork-barrel bills of their own, each in an election year, 1958 and 1960, and each so full of politics they were obviously nothing but veto-bait.
The 1960 bill supported by my opponent was so bad, for example, that relatively little help would have gone to the areas of chronic unemployment really needing it. This politically inspired, opportunistic bill would have frittered away much of its assistance on places bearing no resemblance to our few truly distressed areas.
For Erie, Pa., alone, the bill supported by my opponent could have provided only about $675,000 worth of assistance.
But the administration bill, had it been passed, would have meant $1,447,500 of Federal help for Erie.
Faced with this kind of evidence and the knowledge that the bill would waste millions where there was no real need, is it any wonder the President flatly refused to put his signature to such legislation?
But what about the future?
I wholeheartedly support Senator Hugh Scott's bill, sponsored also by Congressman Van Zandt, Fenton and Saylor - all from Pennsylvania.
This Republican bill would provide some $200 million for distressed area: $100 million in loans for assistance in developing plant locations to attract new industry; $50 million in loans to help bring water, sewer and other necessary public facilities to industry sites; $50 million for agricultural loans; and $3.5 million for technical assistance. Federal participation would be on a 50-50 matching basis.
The Democratic leadership has played politics with this vital issue all too long. I pledge myself and my party to an all-out fight in the next session of the Congress for sound and truly helpful distressed areas legislation.
Richard Nixon, Excerpts of Remarks of the Vice President of the United States, Rally at Erie, PA Online by Gerhard Peters and John T. Woolley, The American Presidency Project https://www.presidency.ucsb.edu/node/273627