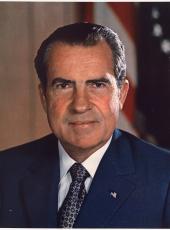 Excerpts of Remarks of the Vice President of the United States, Mount Clemens and Flint, MI
On Thursday, the President of the United States will present once again to the United Nations the deep yearning of the people of our country for a just and dependable peace - a peace in which all peoples can advance and prosper in systems of their own choosing rather than one in which enormous resources are consumed in ever - increasing amounts by instruments of death and destruction.
Our President will be speaking in this world assembly not for Democrats, not for Republicans, not for independents, nor for sections or regions in our country. He will be speaking for all the American people; and behind him, I am convinced, will be proudly arrayed every last one of our countrymen, 180 million strong, no matter their party, no matter other subordinate considerations.
This is a situation gravely important to our country and to the cause for peace. It places a special responsibility upon me, as I see it, upon Henry Cabot Lodge, upon our opponents in this campaign - the responsibility of conducting ourselves, in all that we say and do, with maturity and judgment. We have responsibility in avoiding resort to statements which tend to divide America, which tend to disparage America, and which in any way would encourage Chairman Khrushchev and his fellow dictators to believe that this Nation, the leader of the free world, is weak of will, is indecisive, is unsure of and hesitant to use her vast power, is poorly defended, is held at bay by imperialistic communism, or is divided in opinion on world affairs believing that the majority of mankind holds her in disdain.
A great struggle was never won by a lack of belief in one's own strength and unity of purpose or by a defeatist attitude. We know the regimented Communists will march, lockstep, through the United Nations, hanging desperately together to avoid hanging one another separately. There will be, on their part, no deviation.
We know that they, on their side, will exploit every distinction we draw among ourselves and that they will do their best to draw the United Nations - and us - into their web.
In our press, on television, from our radios, we will read, see and hear the self-serving pronouncements of these single-purposed men. I say simply this:
As our free Nation deliberately subjects itself, because of its freedom, to the impact of these dictatorial leaders and their twisted philosophy, let us not panic or search for faults in ourselves that would give strength to their distorted reasoning. Instead, let America, all partisanship aside, stand confidently in the right, united behind the President as he presents our case before the United Nations, secure and unperturbed in the knowledge that we are on the side certain ultimately to win - the side of freedom and justice, supported by our Nation's vast military and economic strength, the greatest on earth.
Richard Nixon, Excerpts of Remarks of the Vice President of the United States, Mount Clemens and Flint, MI Online by Gerhard Peters and John T. Woolley, The American Presidency Project https://www.presidency.ucsb.edu/node/274042