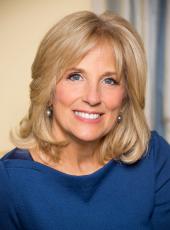 Excerpts of Remarks by the First Lady at Truckee Meadows Community College in Reno, Nevada
[As prepared for delivery.]
In the summer of 2020, I had the opportunity to "tour" Truckee Meadows' manufacturing program—virtually—and meet some of your students. Even from thousands of miles away, I heard about how much this school is doing to support students, with things like transportation and housing, so that they can cross the finish line and get great jobs.
In fact, Rebecca Pinkerton, who I met that day, is here with us now.
But as we found out about so many things during the pandemic, virtual is just not the same. Is it?
So, I'm excited to be with you in person and have the chance to see this school up close once again. So excited, in fact, that I'm using my spring break time to come here!
On a cold winter morning a little over a year ago, I held our family bible and watched my husband take the oath of office.
In that moment, he was the man I fell in love with so many years ago—a father of two boys standing in the wreckage of unthinkable loss, who stitched a broken family back together with grit and grace.
He was the man who took the train home to Delaware every night, because he knew that showing up for the smallest moments can sometimes mean the most.
He was the Senator who learned to get up when he got knocked down and fight even harder for what he knows is right—the Vice President whose steadfast counsel helped guide our country through many storms.
On that Inauguration Day, he was Joe—and then, suddenly, he became something else, too: The President of the United States.
It felt like Americans across the country were holding their breath in the aftermath of four years of chaos.
But as Joe stood there—shoulders back, eyes shining with fierce optimism—I could see his determination to bring us together to lead us forward and build a better America.
And every day since, he has worked to do just that.
Millions of families have been able to send their children back to school and find jobs and catch up on bills.
We still have a long way to go. Our world faces incredible challenges. But we've come so far.
And we're just getting started.
One year ago, we passed the American Rescue Plan. I've spent the last few days touring Arizona and now Nevada, visiting businesses, community colleges, and a community health center. And I've seen what "building a better America" means for real families.
It means investing in our workforce, so it's ready for industries of the future.
It means working families have the opportunity to train for great jobs, no matter who they are or where they live, so that they can build good careers.
It means students like Savanna have the support they need to cross the finish line.
That's what the American Rescue Plan is doing here in Reno.
Today, we saw some incredible health care programs—and heard how the ARP helped this school stay open. Not only is Truckee Meadows connecting students to jobs that pay well, it's addressing a critical health care workforce need for this community.
Make no mistake, schools like TMCC and programs like these change lives. Every person who benefits—who is better off today than they were a year ago—passes that benefit along.
When we invest in you, you invest in your family, in your neighborhoods, in local businesses, in your cities and states.
It's what Joe said last week: The state of our Union is strong because the American people are strong.
That's why we're going to keep investing in community college partnerships and workforce development.
We're going to make sure you can afford child care so you can pursue your education and career.
We're going to create jobs—even more than we already have.
You were right to put your faith in Joe Biden a year ago.
Because in the face of uncertainty, he is unshakeable.
Despite deep divides—at home and abroad—he knows how to bring people together and get things done.
He never loses sight of what this is all about: the people he serves.
When he goes to bed at night and when he wakes up in the morning, he thinks about how to make life better for you and your family.
It's just who he is. It's who he's always been.
He's going to lead us forward to a better America—and it starts here. It starts now. And most of all, it starts with you.
Thank you.
Jill Biden, Excerpts of Remarks by the First Lady at Truckee Meadows Community College in Reno, Nevada Online by Gerhard Peters and John T. Woolley, The American Presidency Project https://www.presidency.ucsb.edu/node/354864