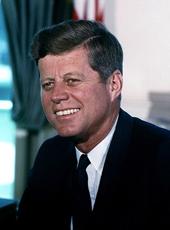 Excerpts of Remarks by Senator Kennedy at Granby High School Athletic Field, Norfolk, VA
Can you tell me what Thomas Jefferson has in common with Richard Milhous Nixon?

A contemporary once said of Jefferson that he was a young man of 32 who could plot an eclipse, survey a field, plan an edifice, break a horse, play a violin, and dance a minuet.
What on earth has he got in common with Richard Milhous Nixon?

The light is in the window. Massachusetts and Virginia both went wrong in the last 8 years. But the people of Virginia have begun to look to the future. I believe that the past will not control the future. The future will control itself.

No citizen can live in this section of Virginia without realizing there is a world of danger and opportunity surrounding us.

You must believe that the United States must go forward.

You cannot possibly put your confidence in Democratic Senators and Democratic Congressmen and suddenly put in reverse and elect a Republican President. What sense does that make in the sixties?

I come to you in these last 4 days. I come back where it all began, and I ask Virginia to give me her vote.

We do not intend to devalue the dollar from its present rate. We will defend its value and its soundness.

We will place less reliance on the high interest rate policy - which has been a major contribution to our current rate of business failure, the highest since the great depression.
Note: Senator Kennedy spoke briefly at a rally at the Granby High School Athletic Field, Norfolk, Va., but the text of his remarks is unavailable. The above document contains exact quotations from this speech given in newspaper accounts.
John F. Kennedy, Excerpts of Remarks by Senator Kennedy at Granby High School Athletic Field, Norfolk, VA Online by Gerhard Peters and John T. Woolley, The American Presidency Project https://www.presidency.ucsb.edu/node/274853