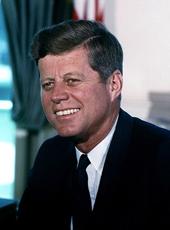 Excerpts of Remarks by Senator John F. Kennedy, Public Square, Youngstown, Ohio - (Advance Release Text)
In 1952 Adlai Stevenson stood on this very spot and pointed out that after 20 years of Democratic rule, our basic industry, steel, was working at 104 percent of capacity. In 1960 I come here as the Democratic candidate for President, and I must point out that after 8 years of Republican rule, steel is at 54 percent of capacity.
The decline in steel has had shattering consequences for thousands of Americans, the consequences of idle men, and worried women, and hapless dependents and broken hopes. A third of all the organized workers in steel are working only part time. Over 100,000 steelworkers are unemployed. And many major communities - Buffalo, and Erie, and Pittsburgh as well as Youngstown - have been knocked flat.
The time has come to recognize that there is a steel crisis in America. And the crisis of our basic industry is an economic headache for the whole nation, not only in 1960, but in all likelihood for the decade to come.
General economic factors account for some of the trouble. There has been a continuing switch from steel to the newer metals. Modernization has made it possible to produce far more steel with little, if any, increase in the working force. Declines in auto production, which uses rolled steel, and in the domestic oil industry, which uses steel pipe, have hit some areas, areas such as Youngstown, especially hard.
But the Republican administration is not free from blame. It must shoulder the responsibility for the harsh impact of the steel decline on steelworkers and on steel towns. By failing to maintain full employment and maximum growth in the economy at large, by failing to encourage diversification in the steel towns, by failing to accept the depressed areas bill, the administration has sharpened, not softened, the cutting edge of the steel crisis.
The Democratic Party has a program to deal with this crisis, both on an immediate and long-term basis. The next Democratic administration will address itself seriously to the steel problem, and it will move to ease the impact on communities and on individuals everywhere.
First, we will maintain policies of full employment and maximum growth for the whole economy. By easing tight-money policies, we will give stimulus to every business activity, including those which consume steel. By expanding highway programs, housing programs and school construction programs we will increase directly the existing market for steel products. And by creating a climate of growth we will foster development of new industries to fill the void now being left by a declining steel industry.
Second, we will repass and put into effect the depressed area legislation twice vetoed by the Republicans. This measure channels economic recovery programs in the direction of areas that have been hardest hit by declining production, and makes available means for attraction of new industry, and for retraining workers forced from their jobs by technological change.
Third, we will move ahead on programs for urban renewal and slum clearance. For besides consuming steel, these programs act to make possible reconstruction of the blighted areas that disfigure so many of our industrial centers. Spacious, new downtown areas are essential as magnets for the new industries that alone can replace those steel plants that have become outmoded or marginal.
Fourth, we will extend and apply practical programs to ease the lot of persons caught up in the steel crisis. Those forced to rely on unemployment insurance should receive more adequate benefits for a more adequate period. Those forced to rely on surplus food packages should receive a more balanced, nourishing diet. And to meet the pressing problem confronting men past working age, and their families, we must put through an effective program of medical care for the aged under the social security system.
The present medical care program will not send one penny to needy persons without further action by the Congress and the State legislatures. It imposes an ugly needs test-a "pauper's oath" - for eligibility.
We can do better-and the next Congress will.
The steel crisis cannot be ignored. It cannot be concealed by glib reassurances. It is here but it can be met. It can be alleviated. Its hardships can be reduced. But it will take a party and a President and a Congress that believes in action.
John F. Kennedy, Excerpts of Remarks by Senator John F. Kennedy, Public Square, Youngstown, Ohio - (Advance Release Text) Online by Gerhard Peters and John T. Woolley, The American Presidency Project https://www.presidency.ucsb.edu/node/274398