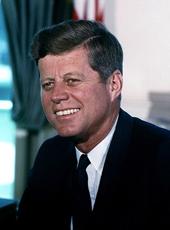 Excerpts of Remarks of Senator John F. Kennedy, Public Rally, Hotel Theresa, New York, NY
Senator KENNEDY. After that speech, I am ready to put the question right now. Are we going to vote Democratic? [Response from the audience.]
Adam, I am going to sit down and turn it all over to you. [Laughter.] Congressman Powell says he is my senior. I respect age. I admire his speech. It was very good. [Applause.]
Mrs. Roosevelt, Senator Lehman, Mayor Wagner, Governor Harriman, Governor Williams, distinguished Democrats, ladies and gentlemen, I am grateful for the generous introduction of my friend and colleague with whom I have served in the Congress for 14 years, and I am happy to come to this hotel, a little late, but I am happy to come here. [Applause.]
I am delighted to come and visit. Behind the fact of Castro coming to this hotel, Khrushchev coming to Castro, there is another great traveler in the world, and that is the travel of a world revolution, a world in turmoil. I am delighted to come to Harlem and I think the whole world should come here and the whole world should recognize that we all live right next to each other, whether here in Harlem or on the other side of the globe. [Applause.]
We should be glad they came to the United States. We should not fear the 20th century, for this worldwide revolution which we see all around us is part of the original American Revolution. When the Indonesians revolted after the end of World War II, they scrawled on the walls, "Give me liberty or give me death." They scrawled on the walls "All men are created equal." Not Russian slogans but American slogans. When they had a meeting for independence in Northern Rhodesia, they called it a Boston Tea Party. They quoted Jefferson, they quoted Jackson, they quoted Franklin Roosevelt. They don't quote any American statesmen today. There are children in Africa called George Washington. There are children in Africa called Thomas Jefferson. There are none called Lenin or Trotsky or Stalin in the Congo, or Nixon. [Laughter.] There may be a couple called Adam Powell. [Laughter.]
But we have to prove what they hear we are talking about, what we are preaching about, what the Declaration of Independence says, what the Constitution says. We have to prove that we mean it, not last year, not 10 years ago, not during Roosevelt's administration, but today, 1960, the years after. If we are going to live by these high words we are going to have to live it every day. We can't turn it on and off. [Applause.]
Here in New York today we just concluded a conference on constitutional rights and American freedom. People who work in this field for years have come here from all parts of the country and they sit right here today. They did not begin to work on it today or last week. They worked on it years ago and they are going to continue to work on it for years to come, and it is a source of satisfaction to me as the standard bearer for the Democratic Party that here in front are the men and women of all parts of the country who led this fight, and you know them all. [Applause.]
When the vote comes in the House and Senate, as Adam Powell knows and Senator Lehman knows, who provides the majority of the votes on every issue, on civil rights, on housing, and minimum wage, sickness, health, good days and bad, who provides the majority of the votes, who offers the amendments, who tries to get them through? A majority of the Democrats. And the record shows that the majority of those who oppose are Republicans and on all the issues.
I don't lead a party which believes $1.25 an hour is extreme. Mr. Nixon said that on the debate a week ago. That is the same party that voted 90 percent against 25 cents minimum wage. I don't lead a party which voted 90 percent against social security, which ran a presidential candidate, Alf Landon, in 1936, calling for the repeal of social security, and yet that is the same party in 1960 that voted against medical care for the aged. I think the record tells us something. By their fruits you shall know them. [Applause.]
Nineteen hundred and sixty has brought up a real difference. Everyone talks about civil rights now, but the Republican candidate is the only one who talks about rights and talks about human rights in the North and States rights in the South, the only one who has a Negro traveling with him in the North but not in the South, the only one who sent Senator Scott of Pennsylvania to represent him in the North instead of Barry Goldwater who represents him in the South.
There is only one candidate, and I hope that is me, who is willing to talk about his record on civil rights. I never concealed my votes for FEPC, for title III, for majority rule in the Senate. Mr. Nixon talks of what will be done in the future, not what he has done for his party has done in the past, for his past is a record of opposition to FEPC, both as a Congressman and as a Senator, and as a consistent do-nothing policy as Chairman of the Government Contracts Commission. After all the Government spends a lot of money and there are a lot of companies involved. How many times have they really acted in order to compel them to provide that when they spend the money they should spend it in a way that people are treated fairly. That is all we ask.
This is Mr. Nixon's record, and I think it is a record that we should consider in the next 4 weeks. I want to make it clear that all this is important, not only to ourselves, but all those who look to us in the cause of freedom. When an African diplomat cannot get a good house in Washington, it isn't because he is an African. It is because his own people, the Afro-Americans in this country, cannot get good housing.
This isn't a matter that we turn on and off. What we are speaks louder than our words, and if we are building a better society here, if we are treating our people fairly, regardless of their race or their religion, then everyone who comes to our country will see what we are and go away impressed. [Laughter.]
This is the unfinished business that we have. Woodrow Wilson, Franklin Roosevelt, Harry Truman, each of their generations met their responsibilities. Now it is ours. Now it is ours to finish the job. Last Saturday at the vote of the United Nations, do you know how many African nations voted with us on the question of Red China? Two. Do you know which ones they were? Liberia and the Union of South Africa. None of the rest voted with us. More countries voted against us in Asia than voted with us last Saturday on the admission of Red China. What has happened to America? We are the great revolutionarv people. We believe in freedom. We believe in independence. The Communists do not. They preach a doctrine. They are colonialists, and we are not, and yet for some reason we have lost the imagination of a people and they are beginning to gain it. What is wrong? I believe it is important that the President of the United States personify the ideals of our society, speak out on this, associate ourselves with the great fight for equality. [Applause.]
The white people are a minority in the world. We want to hold our hand out in friendship. We want to be as Franklin Roosevelt was, a good neighbor to Latin America by being a good neighbor in the United States. [Applause.] If a Negro baby is born here and a white baby is born next door, that Negro baby's chance of finishing high school is about 60 percent of the white baby. This baby's chance of getting through college is about a third of that baby's. His chance of being unemployed is four times that baby's. His chance of owning a house is one-third. His chance of educating his children is that much less. His chance of being a Federal district judge is non-existent because there aren't any. They point to those who work in the Federal service, messengers, laborers, clerks, typists. How many heads of departments? How many members of the Foreign Service are of African descent? There are over 6,000 people involved in the whole Foreign Servic - 23 out of 6,000. That is not very many, when Africa will poll one-fourth of all the votes in the General Assembly by 1962. One-fourth of all the votes of the General Assembly by 1962 will be African.
Again, he will have the same vote as the United States in the General Assembly. We want them to join us in moving forward. We want to move forward ourselves. We want to build a stronger America. We want to provide equality of opportunity for that child and that child. Whatever ability they have, whatever motivation they have, they will have a chance to develop that equally, but it is a doctrine and we stand for it, and we are going to move ahead on it, whether we win or lose this election. This I can tell you. [Applause.]
So I come to Harlem today to ask you to join us, to register this week, to vote, to stand for progress, to move, to go forward, until the United States achieves this great goal of practicing what it preaches. Thank you. [Applause.]
John F. Kennedy, Excerpts of Remarks of Senator John F. Kennedy, Public Rally, Hotel Theresa, New York, NY Online by Gerhard Peters and John T. Woolley, The American Presidency Project https://www.presidency.ucsb.edu/node/274534