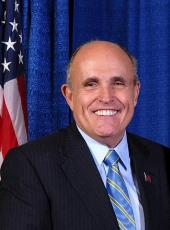 Excerpts of Remarks in Savannah, Georgia
Mayor Giuliani on Cutting Taxes
"[T]here's a big difference between Republicans and Democrats about what to do about taxes. Every one of the Democratic candidates – at least the three principal ones, that I've listened to in the debates that they have, say they are going to raise taxes. When they say they are going to reverse the Bush tax cuts, that translates into raising your taxes anywhere from twenty to twenty-five percent.
"I believe in just the opposite. I think we should maintain those tax cuts, I even think we should improve them because I have a very, very strong, not just belief, but I have had experience doing that. And I don't think any of my opponents has had this experience. … I ran a government for eight years. I ran the third or fourth largest government in the country. And I ran a government that was one of the most heavily taxed in the country. New York City has taxes you never heard of. …
"[W]hile I was the Mayor I lowered 23 or limited 23 different taxes. Who could possibly have 23 different taxes but we did and I lowered them dramatically. Just for example the income tax, I lowered the New York City income tax about 24, 25 percent. One quarter, that's a big reduction in the income tax.
"I want you to think about that. Democrats, they honestly don't understand this. This is a major difference between us. They believe you've got to raise taxes to take in more money for the government. The reality is if you raise taxes particularly in a society that's heavily taxed you end up ultimately taking in less money … for the government. Then you have to raise taxes some more. We've been through that cycle before and if you elect a Democrat in 2008 you're going to begin that cycle all over again. …
"I do not understand why they want to reverse these tax cuts. I really don't. I don't understand why Hillary Clinton and John Edwards and Barack Obama kind of fall all over themselves telling you they want to reverse the Bush tax cuts. Here's the simple fact, the simple fact is we're collecting more money from the lower taxes than we used to collect from the Clinton taxes. …
"[I] had to assert fiscal discipline in a place where it was more difficult to do than Washington D.C. We lowered taxes, we lowered the rate of growth of government, we asserted fiscal discipline over the city, and the city of New York, to this day, is continuing to prosper. So, I just don't believe in these things, I have a strong commitment to them because … I've done them more than anyone else running for president." …
Rudy Giuliani, Excerpts of Remarks in Savannah, Georgia Online by Gerhard Peters and John T. Woolley, The American Presidency Project https://www.presidency.ucsb.edu/node/295673