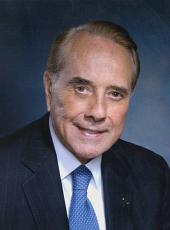 Excerpts of Remarks Following the Iowa Caucuses
Thank you Iowa!
A lot of people have had this state on their minds lately. But I've got Iowa in my heart. I know how to find my way back here, and I promise you this: I will be back often. And when I'm in the White House -- if I make it there -- you'll be there, too.
Because I'll represent your values in the White House. I know your dreams for your children, and I'll be guided every day by your hopes for their future.
That's what it's all about -- leaving America better than we found it, making America freer and stronger and a better place to live -- for the sake of our children.
They played a song when I walked in which has always been very special to me: "You'll never walk alone." It has meant different things at different times. I listened to it over and over after the war, when I needed something to hold me up. At other times, it has inspired me to do my best. Tonight it reminds me of you -- of how Iowa has always stood with me and how I promise to always stand with Iowa.
Thank you for your support. Because of you, we have a real chance to fundamentally change America for the better -- to rein in our government, to balance the budget, to cut taxes, to put parents back in charge of our schools, to secure our streets, and to return power to our states and to our citizens.
I know Iowans made their choices very carefully tonight. I will always wear your confidence as a badge of honor.
Thank you very much, and God bless America.
Robert Dole, Excerpts of Remarks Following the Iowa Caucuses Online by Gerhard Peters and John T. Woolley, The American Presidency Project https://www.presidency.ucsb.edu/node/315518