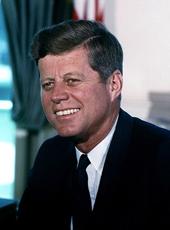 Excerpts from the Remarks of Senator John F. Kennedy, Lorain Stadium, Lorain, Ohio - (Advance Release Text)
* * * The godless Communist tyranny that has fastened itself on the great nations of Eastern Europe - on Hungary, on Poland, on Czechoslovakia, on Rumania, on East Germany, on Bulgaria - can never be overthrown by an America working halftime.
And it cannot be overthrown by empty promises at election time. Eight years ago the Republicans invented the slogan "liberation." They pretended they would work to liberate East Europe from the Communist yoke. You know what happened in East Germany, in Hungary. We had encouraged them, but we did not lift a finger to help them. In the years since, we have heard nothing from our Nation's leaders about the Soviet colonies in East Europe - that have forgotten them, until election time. And today in New York Mr. Khrushchev and his puppet dictators are bristling with success and hostility.
I say it's time to contain communism around the world and not only on Manhattan Island.
I say the so-called policy of "liberation" was a cruel election-year fraud.
I say the peoples of East Europe do not deserve to be forgotten. And I say they won't be under a Democratic administration.
We must make it clear to all the world that we will never accept as a final solution Soviet colonialism in East Europe. We must seek through positive action in the United Nations to hold the searchlight of world opinion on Soviet brutality. We must not allow new crises over Soviet colonialism in Africa and Latin America to make us forget Soviet colonialism in East Europe. We must seize every opportunity to send food and help to the captive peoples of East Europe and to widen the cracks in the Iron Curtain. And above all, we must build a strong full-time America to deal with the full-time Soviet challenge * * *
John F. Kennedy, Excerpts from the Remarks of Senator John F. Kennedy, Lorain Stadium, Lorain, Ohio - (Advance Release Text) Online by Gerhard Peters and John T. Woolley, The American Presidency Project https://www.presidency.ucsb.edu/node/274670