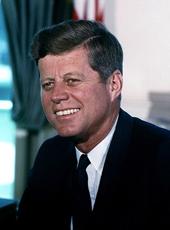 Excerpts from the Remarks of Senator John F. Kennedy, Lockport, NY - (Advance Release Text)
The issue in this campaign is not the "bogus" issue of how far we extend the powers of the Federal Government tomorrow. It is the real issue of how well we use the powers of the Federal Government today. For by its defense programs, by its highway programs, by its housing programs, by its research programs, the Federal Government already has power to help or hurt every individual in every community. Not to use those powers to help people, is to use them to hurt people.
We Democrats have believed at all times and at all places in using the Federal Government to help people. We believe it in depressed counties and in thriving counties. We believe it in the New Freedom of Woodrow Wilson, the New Deal of Franklin Roosevelt, and the Fair Deal of Harry Truman. And we believe it today as we stand on the New Frontier.
For areas experiencing acute trouble - areas such as Niagara and Erie Counties - the challenge of the New Frontier requires these measures.
First, we must spur the rate of national economic growth so as to take up the slack now existing in heavy industry - such as steel, chemicals, and autos - and in service industries - such as building and construction.
Secondly, we must administer existing defense and other Federal procurement programs in a manner that, consistent with the national interest, areas with idle facilities and idle skills are given priority before those skills are disgraced and chronic unemployment takes over.
Third, to that end, we will repass, and I would sign, the depressed-areas bill twice vetoed by the Republicans.
Fourth, we will provide support and encouragement for communities that want to help themselves in solving urban problems of overcrowded schools, polluted water, and rundown neighborhoods. I would for example, sign - not veto - legislation helping local communities to deal with their water problems by building sewage-disposal plants.
John F. Kennedy, Excerpts from the Remarks of Senator John F. Kennedy, Lockport, NY - (Advance Release Text) Online by Gerhard Peters and John T. Woolley, The American Presidency Project https://www.presidency.ucsb.edu/node/274730