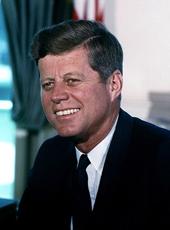 Excerpts from the Remarks of Senator John F. Kennedy, Eastern Carolina Stadium, Greenville, NC - (Advance Release Text)
In 1584 Sir Walter Raleigh sent two ships to the New World to survey sites for a new colony. They landed on the coast not far from here, explored for a few weeks, and sailed back. One of the leaders, Philip Amadas, wrote to Sir Walter that what he had seen was "surely the goodliest land under the cope of Heaven."
Now I come to this "goodly land" from the area of Plymouth Rock to seek your help in a great campaign.
I come to this State - the State with the largest farm population in the Nation - to ask your help in putting back in Washington an administration that cares about farmers for 48 months out of every 4 years and not just for the 2 months of an election campaign.
And I come to the finest tobacco-growing country in the entire Nation to say that I do not run for the Presidency to preside over the liquidation of the family farm in America.
During this Republican administration many small farmers have been forced to abandon their farms or go into debt, young people have drifted away from rural areas in search of greater opportunity, the American farmer has not received his fair share of the American national income, and his costs have risen, and on top of everything else he has been saddled with the Benson-Nixon program. Recently of course, Mr. Nixon has been trying to cut Mr. Benson out of the herd. But herds have a way of sticking together and in any Republican herd there will always be a Benson. And that's not what the American farmer wants.
What he does want is a Democratic Secretary of Agriculture a man who has the basic qualifications for the job.
First, he must believe that farming is a way of life as well as a way to make a living.
Second, he must be determined to achieve a balance between supply and demand, reduce farm surpluses, and insure the farmer a fair price in the market.
Third, he must be ready to work for the allround development of rural areas by increasing programs for soil and water conservation flood and drainage control, balanced development of forests and fisheries and transport, and local industries for the benefit of whole areas.
Fourth, the new Democratic Secretary of Agriculture must be a man who knows that the farmer is an important part of our society, that the farm is an important part of our economy, that the farm family must be brought back into the mainstream of American life to share, and share equitably, in the growth of the whole economy. And that means relief from the cost-price squeeze.
Only the Democratic Party can provide a Secretary of Agriculture with these qualifications for only the Democratic Party has proven that it cares for the farmer.
Franklin Roosevelt proved it in the 1930's with a whole program of legislation that saved the American farmer from Republican ruin.
Harry Truman proved it in the 1940's when he beat down Republican attempts to wreck those programs.
And the next Democratic administration will prove it again with a new program to bring prosperity back to our Nation's farms.
The Democratic program for tobacco, began under Franklin Roosevelt, saved the North Carolina tobacco farmer from ruin.
And today that tobacco program is the most successful program yet devised for keeping the production of a major crop in reasonable balance with demand and to insure a stable price from the grower. It has cost the country almost nothing and it has prevented the accumulation of surpluses. Programs for other farm commodities could well be modeled on it - for it proves that farmers can work together to manage their supplies and stabilize their industry.
And today, in the heart of America's tobacco land, I pledge myself to the continuation of the tobacco program - to be alert to opportunities to improve it - and to work to expand tobacco markets overseas. In fulfilling this pledge I will work with Congressman Harold Cooley and your two Senators, who have been my close consultants since my nomination.
I have discussed the problem of our rural areas with your next Governor - Terry Sanford. I like his approach. We see eye to eye on his "positive program" for better research, for better roads, for better cooperation between farmer and businessman and Government to bring the processing plants and other light industries into rural areas for balanced growth.
I am going to look to Terry Sanford for further advice in working out a sound program for Federal-State cooperation to reverse the disgraceful neglect of our rural population under 8 years of Ezra Taft Benson. And among other things we shall search for ways to get all major commodities under a program as good as the tobacco program. We'll need the help of tobacco farmers for that.
John F. Kennedy, Excerpts from the Remarks of Senator John F. Kennedy, Eastern Carolina Stadium, Greenville, NC - (Advance Release Text) Online by Gerhard Peters and John T. Woolley, The American Presidency Project https://www.presidency.ucsb.edu/node/274771