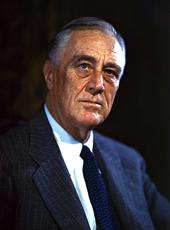 Excerpts from the Press Conference at a CCC Camp in Florida
THE PRESIDENT: I want to get something across, only don't put it that way. In other words, it is a thing that I cannot put as direct stuff, but it is background. And the way—as you know, I very often do it—if I were writing the story, the way I'd write it is this—you know the formula: When asked when he was returning, the President intimated that it was impossible to give any date; because, while he hoped to be away until the third or the fourth of March, information that continues to be received with respect to the international situation continues to be disturbing, therefore, it may be necessary for the President to return before the third or fourth of March. It is understood that this information relates to the possible renewal of demands by certain countries, these demands being pushed, not through normal diplomatic channels but, rather, through the more recent type of relations; in other words, the use of the fear of aggression.
Q. What was that?
THE PRESIDENT: The use of the fear of aggression. Further than that deponent saith not. I cannot, as you can readily understand. That does happen to be true. That is even since we left Washington. It is just as well that the country should know that that is a situation and a possibility. Not by any means, a probability; it is much too strong to say it is a probability.
Q. This latter we say on our own authority?
THE PRESIDENT: Yes. . . .
Franklin D. Roosevelt, Excerpts from the Press Conference at a CCC Camp in Florida Online by Gerhard Peters and John T. Woolley, The American Presidency Project https://www.presidency.ucsb.edu/node/209403